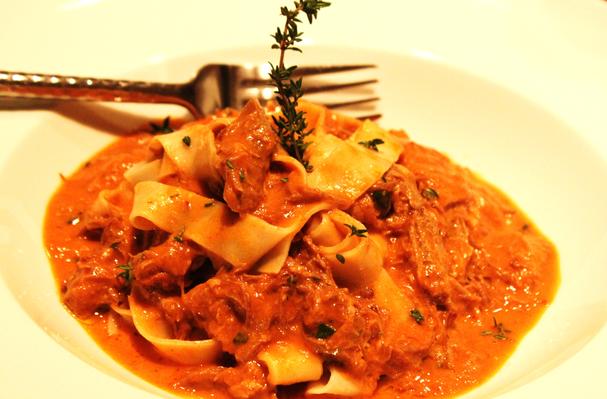 Admittedly, I'm not the biggest meat eater. That said, every now and then an idea comes along that turns me into the biggest carnivore to walk this planet. This dish, packed with luscious, tender, slow-braised pork, sweet, firm, succulent apples, heady applewood smoked salt and the ultimate in fresh, long, extra thin pappardelle pasta had me at hello.
Plus, my sweet husband is such a sport and never complains about all the organic tofu, vegetables and barley I feed him that I just have to treat him every now and then. Needless to say, this is now one of the most requested on his list – and mine.
Pair this with a red wine packed with enough rich fruit to not be overwhelmed with the dish's intense, luxurious flavors. A peppery Malbec will make your taste buds dance, although this dish is incredibly intoxicating on its own.
Recipe adapted from Gerard Craft.
Ingredients
1 3 pound piece of boneless pork shoulder
Smoked sea salt – applewood smoked works very well
2 tablespoons canola oil
1 Granny Smith apple, cut into 1-inch dice
1 large onion, cut into 1-inch dice
2 carrots, cut into 1-inch dice
2 celery ribs, cut into 1-inch dice
4 garlic cloves, crushed
6 thyme sprigs
1 tablespoon smoked paprika
1/2 cup tomato paste
1 cup dry white wine
2 cups chicken stock or low-sodium chicken broth
cup champagne vinegar
2 tablespoons honey
3 tablespoons mascarpone cheese
smoked salt and freshly ground black pepper, to taste
1 pound fresh pappardelle
2 tablespoons chopped fresh flat leaf parsley
extra virgin olive oil for drizzling
1 tablespoon fresh thyme leaves
Preparation
1. Preheat the oven to 300 degrees.
2. Season the pork well with 1 1/2 tablespoons of smoked salt. In a dutch oven or cast iron-casserole, heat the canola oil until hot and shimmering. Add the pork and cook over moderately high heat, turning until browned on all sides, about 15 minutes.
3. Transfer the pork to a plate and set aside.
4. Add the apple, onion, carrot, celery, garlic and thyme sprigs to the casserole and cook over moderate heat until somewhat caramelized, about 6-7 minutes.
5. Add the smoked paprika and tomato paste and cook until the paste deepens in color, about 3-4 minutes.
6. Add the wine, chicken stock, vinegar and honey and bring to a boil. Once boiling, reduce to a simmer.
7. Add the pork – the braising liquid should come up about halfway on the pork shoulder – cover the casserole tightly with aluminum foil and place the lid over top.
8. Transfer to the preheated oven. Braise the pork for about 3 hours, turning once halfway through, until very tender.
9. Tranfer the pork to a clean plate. Strain the sauce through a fine mesh sieve into a large bowl, gently pressing on the solids with the back of a spoon.
10. Pour the sauce back into the casserole. Using two forks, or your very clean hands, shred the pork, discarding any pieces of fat.
11. Transfer the pork back to the sauce and gently stir in the mascarpone. Season the salt the additional smoked salt and pepper. Cover and keep warm.
12. In a large pot of salted boiling water, add a teaspoon of olive oil. Add the pappardelle and cook until al dente.
13. Drain the pasta and transfer to the casserole with the sauce.
14. Toss the pasta with the sauce and parsley and thyme leaves until well-coated.
15. Transfer the pasta to warm bowls.
16. Drizzle with good-quality extra virgin olive oil, sprinkle with a little smoked salt, garnish with a sprig of thyme and serve.