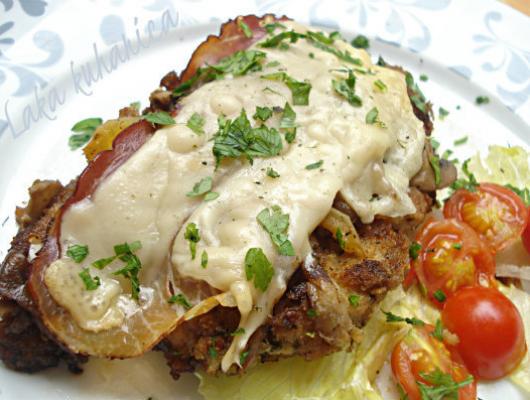 Succulent and mouth-watering meal for family or guests.
Ingredients
2 eggs, beaten
¼ cup milk
¼ cup meat broth from 1 cube
¾ cup home made bread crumbs
½ tsp ground black pepper
1 tsp fresh parsley leaves, chopped
4 veal cutlets
2 tbs butter
1 tbs olive oil
1 yellow onion, sliced
2 cloves of garlic, minced
1 green bell pepper, cut into strips
1 ½ cup mixed mushrooms, sliced
Pinch of salt and pepper
4 slices of prosciutto
4 slices of provolone
¼ cup of fresh parsley, chopped
Preparation
1. In a small bowl beat the eggs and milk together, add meat broth and set aside.
2. Place the bread crumbs, pepper and parsley in a separate bowl. Mix and combine.
3. Flatten the veal thin between two sheets of wax paper.
4. Dredge the veal in eggs and then the bread crumbs and refrigerate for 30 minutes.
5. Fry the veal in 1 tablespoon of butter and olive oil until lightly browned, drain on a paper towel.
6. In a separate large frying pan sauté the onions, peppers, mushrooms and garlic until tender. Season with salt and pepper
7. Place the veal in a large casserole dish and top with the peppers and onion mixture.
8. Top each cutlet with a slice of prosciutto and then the provolone.
9. Bake in the oven at 220ËšC for 15 minutes or until the cheese is melted and slightly brown.
10. Garnish with parsley.