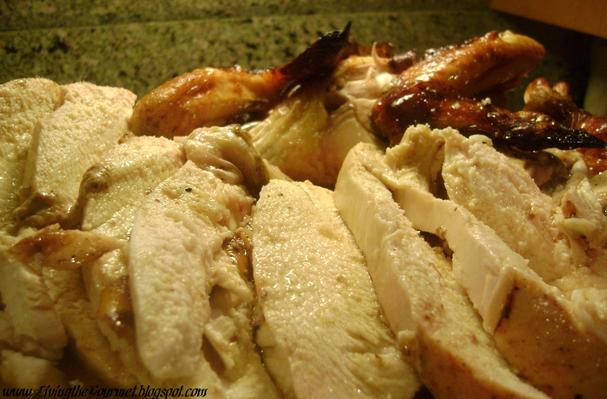 This chicken will add a wonderful exotic flavor to your table.
Enjoy with Lots of Love,Catherine
Ingredients
7 pounds chicken
Brine:
Sprinkle of whole cloves
Sprinkle of whole all-spice
2 bay leaves
Dashes of ground celery see
Dashes of ground curry
Dashes of cinnamon
1 tablespoon of brown sugar
1/2 Juice of lemon
2 tablespoons of vinegar
2 cloves of garlic – halved
1/2 cup of salt
Curry Glaze for Chicken:
2 tablespoons of honey
1 tablespoon of Rice Wine Vinegar
Dash of sea salt
Dashes of fresh ground black pepper
1 tablespoon of ground curry
1 teaspoon of cinnamon
Preparation
1. Clean chicken thoroughly. Fill a large saucepot half-way with water and add all of the ingredients for the brine. Place the clean chicken in the water, cover and refrigerate for at least 2 hours. The chicken may remain in the brine as long as overnight.
2. Preheat Oven 350 degrees:
3. Remove the chicken from the brine and let the excess water drip. Do Not rub the chicken dry. Place the chicken in a baking pan. Gently lift the skin from the meat and rub some glaze on the meat under the skin. Rub the rest of the glaze all over the outer skin.
4. Bake for 15 – 20 minutes per pound or until the juices run clean at the thigh.