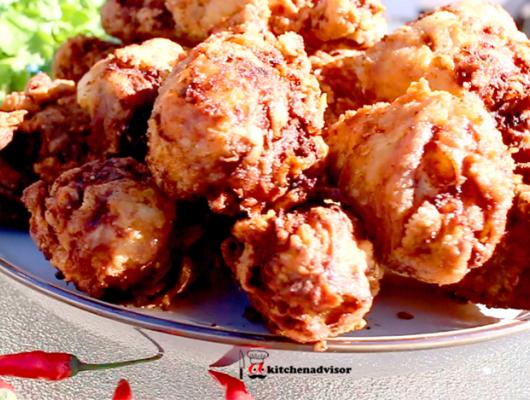 Today's 1-hour recipe is an attempt to copycat one of our favorite chicken recipes. Learn how to make your own perfect KFC style Buttermilk Fried Chicken (Easy and Crispy) recipe. Yes, you can make Milk Kefir Fried Chicken at home and impress your friends and relatives by its outside crispiness and inside tenderness. With our tips a homemade version will be even better that the original one because it could be highly customized for your taste and preferences (if you wish to explore more). If not, it's OK as well, just follow the steps and enjoy the culinary ride.
Buttermilk Fried Chicken:-
As always, there are some useful tips that might help you achieve the best results.
Firstly, you can use any Buttermilk. We used homemade Buttermilk.
Secondly, always marinade before frying.
Thirdly, the choice of herbs is up to you. We recommend you the classic style option.
As always, we share with you only the recipes that we made many times and selected as per the strict criteria for busy families that care about the budget and health.
Ingredients
5 pound chicken
1 tsp salt
1 tsp black pepper
1 tsp paprika
1/4 tsp cayenne
1/2 tsp white pepper
1 tsp each herb (oregano, thyme, rosemary, sage)
2 cups buttermilk
for the seasoned flour:
2 cups flour
1 tsp salt
1/2 tsp paprika
1/4 tsp cayenne
1/2 tsp white pepper
1/2 tsp garlic powder
1/2 tsp onion powder
2 1/2 quarts vegetable oil for frying (sunflower)
Preparation
1. In a large bowl, place the chicken pieces, add salt, black pepper, paprika, cayenne, white pepper and herbs (oregano, thyme, sage and rosemary). Mix it well and combine with the buttermilk. Marinade it for 4-6 hours.
2. Make seasoned flour by mixing together flour, salt, paprika, cayenne, white pepper, garlic powder & onion powder. Dredge the chicken in the flour mixture, so it will be nicely coated all over.
3. In a deep skillet or Stainless Steel Casserole, heat 1 inch of oil to 300°F. We are using Stainless Steel Casserole for this recipe. Set a rack over a baking sheet; line with paper towels. Fry the chicken in batches at 300°F, turning once, until golden , 15 to 18 minutes. Transfer the chicken to the paper-lined rack and let stand for 5 minutes before serving.