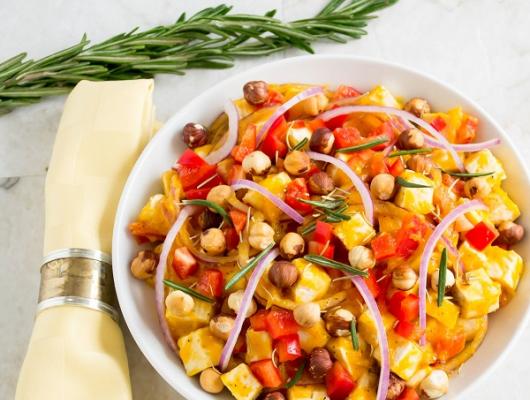 Vegan and glutenfree Thanksgiving potluck menu that can be served as a side dish or as a main dish.
Ingredients
1 pack extra firm tofu (14 oz. pack chopped)
½ cup raw hazel nuts
2 cups butternut squash (chopped)
½ cup water
1 tsp salt
½ tsp black pepper
1 tsp rosemary leaves
¼ tsp lemon juice
1 whole red pepper (chopped)
½ of whole red onions (finely sliced)
Preparation
1. Preheat oven at 370 degree Fahrenheit. Prepare 2 cookie sheets with a liner/parchment paper.
2. In one cookie sheet spread the tofu pieces and in another cookie sheet spread the hazelnuts.
3. Put the cookie sheets in the oven and bake. Bake hazelnuts for 5-7 minutes and tofu for 20 minutes.
4. In the meantime combine water and squash in a saucepan. Cover and boil for 5 minutes or until the squash pieces are soft.
5. When the squash is boiled let it cool for a while and grind into a smooth paste.
6. In a bowl combine salt, black pepper, rosemary, lemon juice and squash puree and keep it aside.
7. When the hazelnuts are done take it out of the oven and let the tofu cook in the same oven. Let the nuts cool and rub gently between palms or with paper towel to remove the skin.
8. Once the tofu is cooked for 20 minutes or until very light golden brown in color take it out from the oven.
9. In salad bowl combine all the ingredients and mix gently so that the tofu retains its shape.
10. Garnish with more hazelnuts and/or rosemary and serve immediately.
11. This salad tastes great when warm but can be served at room temperature also.