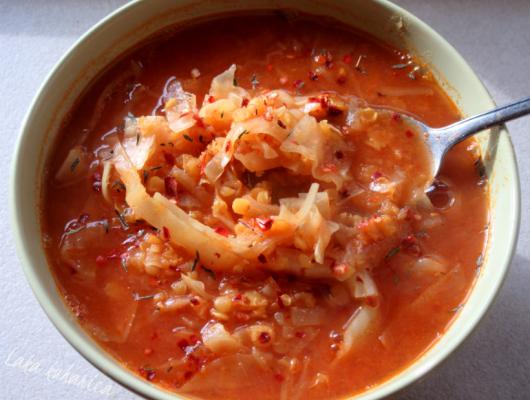 One soup, two mighty ingredients and carefully selected roots and herbs, come together in a pressure cooker pot, in just 25 minutes.
Ingredients
1 / 100 g onion, rougly chopped
3 garlic  cloves
2 inch fresh ginger root, cut into chunks
1/2 Jalapeno/ 30 g red horn pepper, cut into chunks
1/2 tsp turmeric dried powder
1 tbsp olive oil
1 tsp dry thyme
200 g dry red lentils, picked and thoroughly washed
400 g green cabbage, shredded
1 bay leaf
200 ml tomato puree
2 tsp sea salt
1500 ml water
4 tbs red wine vinegar,  adjust per taste
2 tbsp chili flakes
Preparation
1. In a food processor, grind onion, garlic, ginger, jalapeno, turmeric to a coarse paste.
2. In a pressure cooker pot sauté onion mixture with thyme for 3-4 minutes or until mixture is slightly brown.
3. Add washed lentils, chopped cabbage, bay leaf, tomato puree, salt and water. Close with the lid and bring to pressure. When pressure is reached, turn heat down to low. Continue cooking for 12 minutes. Release pressure naturally.
4. Open the lid, add red wine vinegar, black pepper and chili flakes.