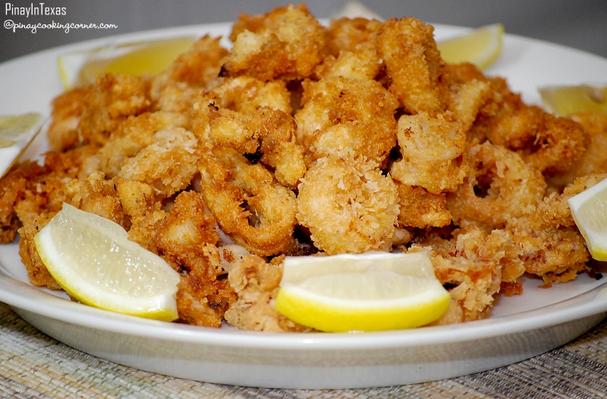 Calamares which is the Spanish word for squid is what the Filipino Deep Fried Squid dish is called. It is another most favorite dish in the Philippines, either with rice or with ice cold beer (as pulutan that is). It is very easy to cook. Perhaps this explains the increasing number of street vendors selling calamares nowadays.
This is usually served as an appetizer but in the Philippines, it is considered as a main dish. Calamares is delicious, simple, and really easy to cook.
Ingredients
12 pieces medium-sized squid, cleaned, innards removed and sliced into rings (You can include cleaned tentacles as
2 eggs
1 cup panko bread flour
3/4 cup all-purpose flour
1/2 tablespoon fresh lemon extract
2 tablespoons fish sauce
1 tablespoon garlic powder
Salt
blackpepper
1 piece lemon, cut into wedges for garnishing
2 cups vegetable oil for frying
Preparation
1. Sprinkle squid with ½ tsp blackpepper.
2. In a bowl, mix lemon extract, fish sauce and garlic powder. Add the squid. Mix well. Cover bowl with plastic wrap and let sit in the refrigerator for at least 30 minutes. Drain.
3. Beat the eggs with a pinch of salt and pepper.
4. Add a pinch of salt and pepper to the flour. Mix well.
5. Lightly dust each squid ring with flour. Dip in beaten eggs then to the Panko breadcrumbs.
6. Heat oil in a cooking pot then deep-fry the squid rings under medium heat until the color of the outer part turns medium brown (about 5 minutes).
7. Remove the fried squid rings from the cooking pot and drain on paper towels.
8. Transfer to a serving plate and garnish with lemon wedges
9. Serve with tartar sauce or your favorite dip!