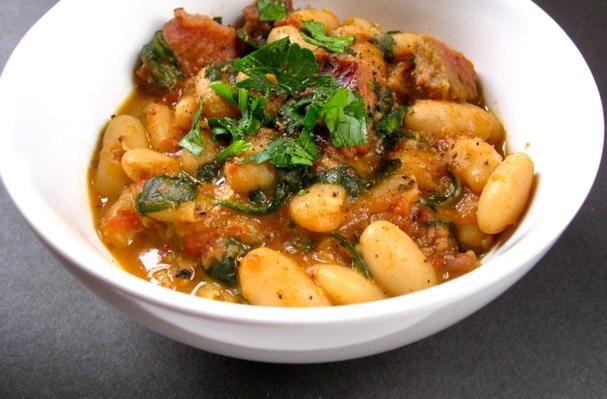 This simple stew is all about the smoked turkey. If you've ever wondered what to do with those smoked turkey drumsticks, wings, or even smoked porkchops you see at the grocery store in the meat aisle, adding them to a soup or stew is an easy way to really deepen the flavors of your dish and add a nice smokiness.
I bought smoked turkey drumstick pieces that were cut into slices, and cut them into smaller, bite sized pieces. Turkey drumsticks have those tough tendons along the side, so you'll want to remove those. I also removed the skin but did throw the bones in while the soup simmered away, and then removed them before serving.
I threw this together with just one can of cannellini beans and a can of diced tomatoesand only made enough for a few servings, but you could easily double the recipe. You can also make this looser for more of a soup, or thicker for something more like a stew. I decided to go with a nice, thick and hearty stew and served it with ciabatta. If you like, you could grate a little pecorino or parmigiano reggiano over it before serving.
Ingredients
1 cup smoked turkey, cut into bit-sized pieces
1 15 oz. can can cannellini beans (white beans)
1 15 oz. can diced tomatoes
1/2 small onion, chopped
2 cloves garlic, finely chopped
2 cups broth of your choice or water, more as needed
2 teaspoons kosher salt, more to taste
pinch crushed red pepper
pinch freshly ground black pepper, more to serve
2 cups chopped fresh spinach
3 tablespoons chopped fresh parsley, a little set aside to garnish
1 tablespoon olive oil
Preparation
1. Heat olive oil in a medium sauce pan over medium high heat. Add onions and saute for about a minute or two until onions start to soften. Add garlic and saute another 30 seconds or so.
2. Add smoked turkey pieces and saute for another minute.
3. Add diced tomatoes, broth, salt and red pepper. Bring to a boil, and then reduce heat to medium low and simmer for about 15 minutes.
4. Add beans and let everything cook for another 15 min. Add more broth or water if it's starting to get too thick. Add spinach and simmer another 5 min.
5. Taste and adjust seasoning to your taste. Stir in parsley at the end.
6. Garnish with a drizzle of good olive oil, a little chopped parley, freshly ground pepper and some good bread. Grate a little pecorino or parmigiano reggiano to serve if you like.