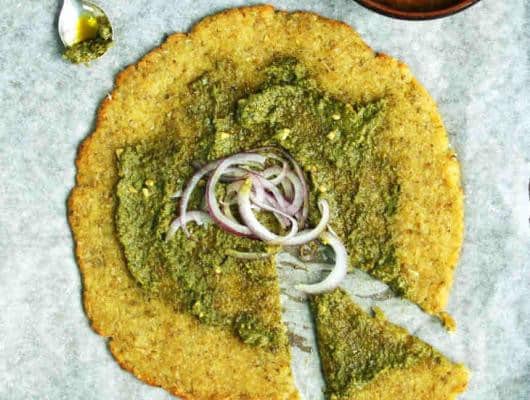 DESCRIPTION: Even pizza lovers enjoy mixing it up on occasion. This cauliflower-based pizza provides a jazzy twist on the standard pie, swapping tomato sauce for pesto.
Ingredients
For the pesto
1/3 cup olive oil (80 ml), plus more if necessary
1.5 cups of fresh basil leaves (48 g)
2 cloves of garlic (6 g), peeled
½ lemon zest and juice
Pinch of salt
For the cauliflower pizza base
1/2 head of cauliflower (300 g), food processed into small particles
3 Tablespoons of arrowroot flour (24 g)
½ teaspoon garlic powder (1 g)
½ teaspoon onion powder (1 g)
½ teaspoon dried oregano (1 g)
1 Tablespoon (15 ml) olive oil
Salt to taste
2 Tablespoon (30 ml) reserved pesto (optional)
Small amount of thinly sliced red onion (optional)
Preparation
1. Make the pesto by blitzing the olive oil, basil and garlic with the zest and juice of half a lemon using a food processor. Add a dash more olive oil if you need to. Season with salt to taste. Store in a jar and use for other dishes as well.
2. Preheat the oven to 350°F (180°C).
3. Place the blitzed cauliflower into a dish and cook in the microwave, partially covered, on high for 5-6 minutes. Carefully remove and tip the cauliflower onto a clean dish towel or muslin cloth. Allow to cool.
4. Wrap the dishcloth/muslin around the cauliflower and squeeze as much of the moisture out as you possibly can.
5. Tip into a bowl and add the arrowroot, garlic powder, onion powder, dried oregano, olive oil and salt. Combine well until it resembles a ball of dough. Tip onto a tray lined with parchment paper and shape into a round, thin pizza shape. Place in the oven for 20 minutes.
6. Remove from the oven and spread one or two tablespoons of the pesto and top with some thinly sliced red onions. Serve immediately.