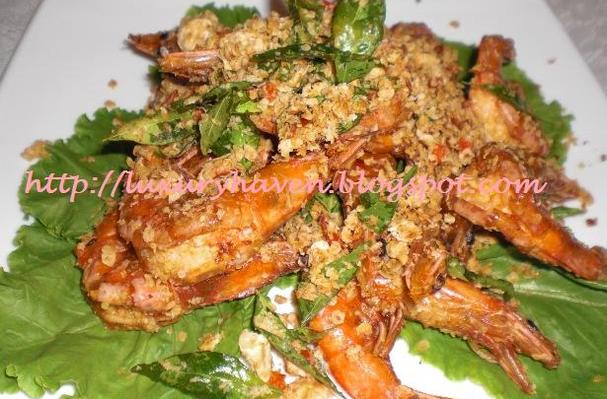 You can create wonders using cereal, from a fuss-free hearty breakfast to baking & even whipping up a meal. Since my Japanese guest is a seafood lover, I decided to introduce him to one of Singapore's most popular dish – Cereal Prawns, using Quaker Oats. Pls visit http://luxuryhaven.blogspot.com/2009/09/prawns-cooking-with-quaker-oats.html for step-by-step photo instructions.
Ingredients
1/2 medium kg or Big Prawns
3 Sprigs of curry leaves (remove sprig)
3 Chilli Padi (chopped/sliced)
5 tablespoons Quaker Oats
1 tablespoon milk powder
2 tablespoons butter
1 teaspoon Garlic (minced)
1/2 Egg
1 tablespoon flour
Cooking oil
Preparation
1. De-vein & slit open fully, the back of the prawns.
2. Whisk egg & mix with prawns. Add flour & stirwell.
3. Heat oil & deep-fry prawns. Drain & set aside. Melt butter. Add in curry leaves, garlic & chili padi. Cook on small fire till fragrant.
4. Mix milk powder with cereal & add into wok.
5. Stir well & throw in prawns. Stir-fry briefy & you'll get a delicious plate of Cereal Prawns.