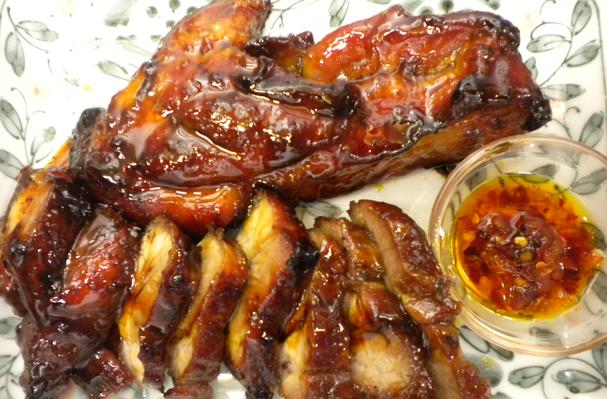 This method is often traditionally called "red cooking," due to the red tinge pork can get when roasted, which is naturally enhanced by soy sauce. Unfortunately, many recipes include red food coloring, one actually called for 1/2 a cup! imagine what that would do to your insides. skip the food coloring, it's nasty and adds no flavor!
If you parboil the meat first and then dry, it helps develop a shiny glaze. In researching Chinese cooking in general, I've found this is a trick to getting crispy skin on roast meats, like suckling pig and Peking Duck. Many recipes suggested marinating the meat first, I like this technique better.
Try kicking up the quantity of five spice powder and the other spices.
You can make the sauce in advance, even in quantities, and keep it in the fridge to put on other dishes.
Use a meat thermometer to roast the pork. Take out at 145 degrees, this results in a much more tender and moist version.
Ingredients
2 lbs pork loin
1/4 C sugar
2 Tbsp honey
1/4 C soy sauce
1/4 C hoisin sauce
1/2 C xao hsing rice wine
2 tsp five spice powder
2 tsp toasted sesame oil
1 Tbsp fresh ginger minced
2 garlic cloves put through press or minced
1 Thai chili, chopped
3 Tbsp chopped green onion
Preparation
1. Whisk together above sauce ingredients in a pan and simmer for 5-10 minutes, being careful not to boil as this can give it a burnt taste.
2. Taste and adjust the spices, salt, and sweetness to your liking.
3. Strain liquid and set aside.
4. Heat enough water water in a pot to cover pork and bring to a boil. To kick up the flavoring, add a few extra tablespoons of soy sauce and Xao Hsing wine, plus the peels from the ginger and garlic to the water.
5. Add pork and parboil for 5 minutes. This will remove any surface blood and juices that cloud the sauce.
6. Remove pork and pat dry with a paper towel.
7. Preheat oven to 350 degrees.
8. Place pork on a roasting rack and baste liberally with sauce.
9. Roast in oven, basting frequently until interior temperature registers 145 degrees, approximately 45 minutes.
10. Remove and allow roast to rest 5-10 minutes.
11. Slice thinly, drizzle with more sauce, and serve over rice with stir fried bok choy or similar greens. Can also be served cold.