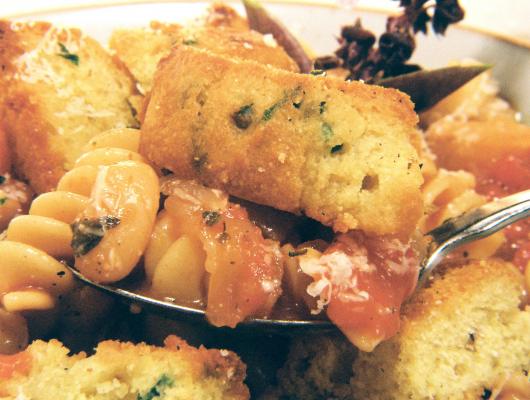 Many chefs have a version of a Fagioli soup. Here's my savory rendition with fresh herbs, white wine, homemade chicken stock, and topped off with fresh baked chili chive croutons.
Plus, a wine taste test…It's Zin, versus a red blend and chardonnay. Visit my blog to see which one is perfect pairing for this soup! And to see how to make these crunchy homemade croutons! Forget the crackers 🙂
Ingredients
1 tablespoon olive oil
1 teaspoon dried purple basil
1 teaspoon dried Italian oregano
1/4 teaspoon crushed red pepper flakes
5 stalks celery, chopped
1 onion, chopped
2 pinches of salt, or to taste
1/2 cup Chardonnay (or other dry white wine)
1 cup homemade chicken stock (or canned)
2 cans Italian style tomatoes (or 1- 28 ounce can of San Marzano)
1 – 8 ounce can of tomato sauce
1/4 teaspoon sugar
1 cup uncooked multigrain spiral pasta (you can use white but cook time may be less)
1 – 15 ounce can cannellini beans, with liquid
Preparation
1. Heat olive oil in a large saucepan over medium heat.
3. Stir continuously to release oils. It only takes about 30 to 60 seconds. Be careful not to let them burn.
6. Once they are tender and translucent pour wine in.
7. Allow to deglaze for 3 or 4 minutes.
8. Dump in stock and stir until it dissolves to a smooth consistency (if using canned just cook for 2 or 3 minutes.)
9. Stir in tomatoes and sauce.
10. Then sprinkle with sugar.
11. Simmer this on low for about 20 minutes.
12. Add pasta and cook approximately 10 minutes, until pasta is tender.
13. Add undrained beans and mix well.
15. Serve with fresh grated Parmesan or Romano cheese.
16. You can also include fresh basil leaves for a garnish if you have any.