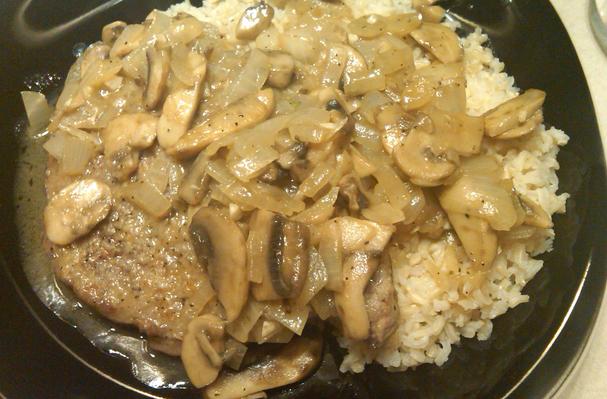 Simple, affordable dinner. Used what I had in my apartment. Enjoy.
Ingredients
2 steaks–cheap ones will do just fine
1 cup uncooked brown rice
8 ounces mushrooms sliced
1/2 of a large onion chopped
2 garlic cloves minced
3 tablespoons dry white wine
7 ounces chicken stock
all-purpose flour
olive oil
salt
pepper
garlic powder
Preparation
1. Follow instructions on brown rice that correspond with one cup of uncooked rice. Take both steaks out and bring them to room temperature.
2. Heat enough olive oil to coat the bottom of a medium-high skillet.
3. Sprinkle one side of the steaks with salt, pepper, and garlic powder, and apply a thin layer of flour.
4. Put the steaks in the skillet seasoned and floured side down.
5. Apply the salt, pepper, garlic powder, and flour to the other side.
6. Cook until nicely seared on each side and medium rare(depends on thickness). Remove steaks from pan and cover with tin foil to keep warm.
7. Add mushrooms, onions, and garlic to the same pan–You may need to add more oil.
8. Cook until the vegetables are tender, then add the white wine.
9. Make sure to scrape the bottom of the pan to lift any bits that may be stuck.
10. Bring to a boil and let boil for one minute.
11. Add the chicken stock and bring to a boil. Let the sauce boil for about 5 minutes.
12. Serve steak over rice and top with mushroom sauce.