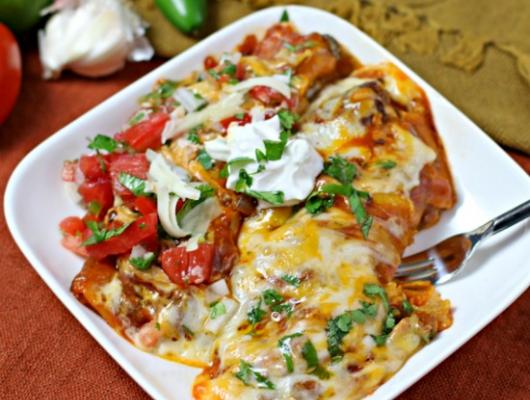 These loaded Cheesy Adobo Enchiladas are made with toasted corn tortillas stuffed with beef, chilies, onion, a blend of two melted cheeses and a kicked up sauce that will change your life! Serve it hot and bubbly straight out of the oven for maximum smiles!
Ingredients
2 tablespoons flour
2 tablespoons canola oil
1 can (28 ounces) red enchilada sauce
1 cup chicken broth
4 chipotle chiles in adobo sauce, chopped
¼ teaspoon garlic powder
¼ teaspoon cumin
¼ teaspoon onion powder
¼ teaspoon chili powder
1 teaspoon brown sugar
½ teaspoon sugar
½ teaspoon cinnamon
½ teaspoon salt
¼ teaspoon pepper
1 pound ground beef
1 medium onion, finely chopped
½ teaspoon salt
¼ teaspoon pepper
1 (4 ounce) can diced green chilies
1 can (2.25 ounce) sliced black olives
1 cup canola oil, for frying
10 corn tortillas (I use the super size ones)
1 cup green onions, chopped
2 cups sharp Cheddar cheese, grated
1 cup Monterey Jack cheese, grated
2 roma tomatoes, chopped
¼ onion, chopped
1 jalapeno, finely chopped
1 garlic clove, finely grated
⅓ cup cilantro, finely chopped
2 tablespoons lime juice
Pinch of salt
Sour cream, if desired
Preparation
1. In a saucepan over medium low heat, add the flour and stir constantly for 2 minutes. Add in the canola oil and whisk to combine thoroughly. Allow mixture to bubble for 1 minute while stirring frequently. Pour in the red enchilada sauce, chicken broth, chipotle chiles, garlic powder, cumin, onion powder, chili powder, both sugars, cinnamon, salt and pepper. Bring to a boil. Reduce the heat and simmer for 45 minutes, stirring occasionally.
2. In a large skillet, brown the ground beef with the onions over medium heat. Drain the fat. Add the salt, pepper, green chilies and olives then stir to combine. Turn off the heat and set aside.
3. In a small skillet over medium high heat, heat the canola oil. Lightly fry the tortillas just until soft. Do not crisp (about 10 seconds per side). Drain on a paper towel-lined plate. Repeat until all the tortillas have been fried.
4. Preheat the oven to 350° F.
5. Dip both sides of each tortilla into the enchilada sauce just to coat, and then transfer to a rimmed baking sheet to finish stuffing them before adding them to the casserole dish. Spread ½ cup of the enchilada sauce in the bottom of a 9 x 13 inch baking dish. Working one at a time, spread ¼ cup beef mixture down the center of tortilla. Top with green onions and cheddar cheese. Fold one side of the tortilla over filling, and then continue to roll enchilada onto itself. Place seam side down in prepared 9 x13 baking dish as you go, nestling each one up against the other.
6. Repeat with the rest of the tortillas and pour the remaining sauce over the top. Top with remaining cheddar cheese and jack cheese.
7. Bake until sauce is bubbling and cheese is beginning to brown, about 20-25 minutes. Let sit for 10 minutes.
8. In a small bowl combine tomatoes, onion, jalapeno, garlic, cilantro, lime juice and salt. Serve enchiladas with pico de gallo mixture on top and a little sour cream.