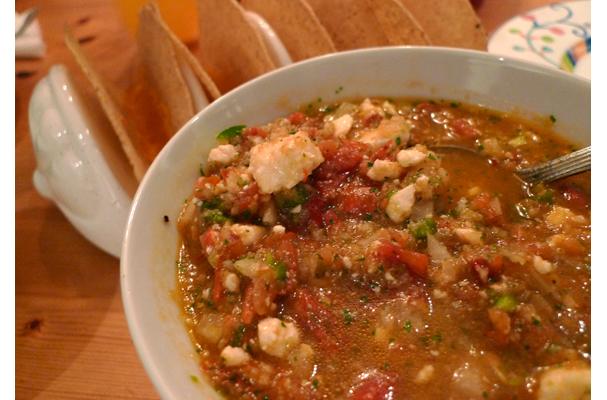 This salsa is one that I've made over and over again for parties and family gatherings. I don't remember where I first got the basic salsa recipe, but I pretty much just combined that with a classic chimichurri mix, which made it my own.
Now, it's our family salsa recipe,and it's so good that my sister eats it like gazpacho soup!
Ingredients
4 cups cherry tomatoes (or any small)
4 garlic cloves, minced
1/2 cup finely chopped Italian parsley
1/2 cup finely chopped cilantro
2 Jalapeño Chiles, de-seeded (if needed) & sliced thin
2 limes, juiced
1 medium jicama, peeled and diced
4 ripe tomatillos, husked, rinsed and diced
1 small red onion, sliced thin
1/4 cup red wine vinegar
1/2 cup olive oil
1/4 pound queso fresco cheese, chopped or crumbled
salt and pepper to taste
Preparation
2. Put the tomatoes (make sure they are dried) onto a baking sheet, drizzle olive oil and rub all over tomatoes, then add a bit of salt and pepper.
3. Broil until the tomatoes just burst, about 4 or 5 minutes.
4. Remove tomatoes from oven and let them cool.
5. Combine garlic, jalapeno and lime juice into a large bowl, then whisk in vinegar and olive oil.
6. Depending on if you like your salsa chunky or smooth, you can either place ingredients in food processor or mix into same bowl.
7. For the salsa we made in photos, we blended all the broiled tomatoes, as well as half the remaining ingredients in food processor. Then blended in remaining ingredients and the cheese at the end.
8. If you want the salsa chunky, then add all ingredients into bowl and mix by hand. If you like it super smooth and juicy, then blend in food processor (or blender) until you get the consistency you want.
9. Taste and season with salt or pepper if needed.
10. You can eat right away, but it will taste better if given time in fridge. Make sure to cover tightly.