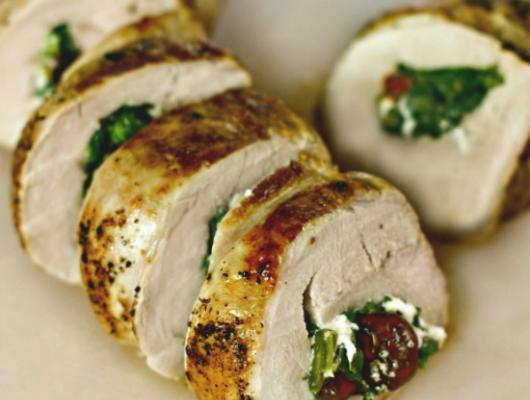 Easy, delicious and healthy roasted Cherry and Goat Cheese Stuffed Pork Loin is overflowing with flavor.
Ingredients
1 teaspoon olive oil
¾ cup baby spinach
½ teaspoon lemon zest
¼ teaspoon salt
¼ teaspoon garlic powder
¼ teaspoon onion powder
¼ cup dried cherries
¼ cup goat cheese crumbles
1 to 1½ pound pork tenderloin
2 tablespoons olive oil
¾ teaspoon salt
¼ teaspoon pepper
4 pieces butcher's twine, 10" in length
Preparation
1. Preheat oven to 400°F. Cover a baking sheet with foil and spray with non-stick cooking spray.
2. Heat olive oil in a medium non-stick pan over medium-high heat. Coarsely chop the baby spinach. Add the spinach, lemon zest, salt, garlic powder and onion powder to pan. Cook about 2 minutes, stirring frequently until just wilted. Remove spinach to a small bowl and set aside to cool for 5 minutes. Add the dried cherries and goat cheese crumbles to the spinach and toss slightly.
3. Rinse tenderloin and thoroughly pat dry. Lay tenderloin on a separate cutting board. Use a sharp knife to "butterfly" the pork tenderloin. This is done by making an incision mid way through the length of the tenderloin (so it opens like a book). Be sure to leave the loin with at least ½ inch uncut at the base. Repeat with remaining loin (here is a video I found to demonstrate).
4. Cover loins with plastic wrap and use the back of a rolling pin (or a meat tenderizer) to gently pound the meat until the surface is flat. Do not over pound, as this will affect the texture of the pork. Pound out to a uniform ½" thickness.
5. Place spinach filling down the center and roll up.
6. Tie the pork tenderloin closed with 4 pieces of twine, binding every two inches on the loin, ensuring the roll stays intact. Cut the excess string length.
7. Season the pork on all sides with salt and pepper.
8. Heat 2 tablespoons olive oil in medium non-stick pan over medium-high heat. Add pork to hot pan and cook until golden brown on all sides, about 6-7 minutes. Transfer pork loin to prepared baking sheet and bake the pork loin until it reaches a minimum internal temperature of 145°F, about 12 minutes.
9. Remove from the oven and place the loin on a plate and cover with foil. This will allow the meat to rest and give the filling a chance to firm up.
10. Slice pork into ½" thick slices and serve.