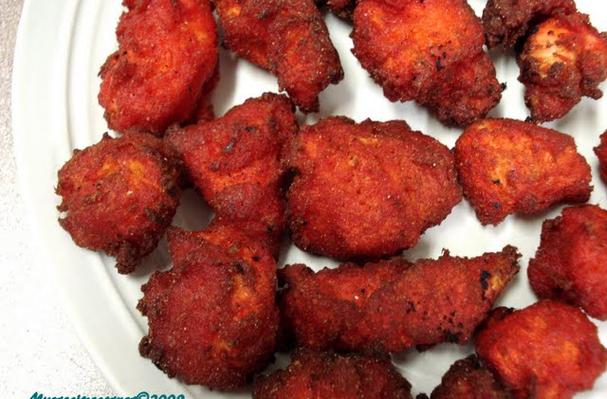 Ingredients
Chicken chunks (with or without bone)-500gms
Ginger and Garlic paste-4tbsp
Yogurt/ Thick Curd-4tbsp
Turmeric powder-1/4tsp
teaspoon Red chilly powder-2 to 3
Red food color( if required)-pinch
Salt to taste
Preparation
1. Take a large bowl mix in the ginger and garlic paste, curd, red chilly powder, turmeric powder, salt and food color.
2. Mix well to from smooth and thick paste, add the chicken pieces to the masala paste and marinaded for 4 hours.
3. Heat enough oil in a pan to deep fry the marinaded chicken pieces. Deep fry the chicken pieces in batches till crisp and golden color. Garnish with sliced onions, green chilly and slice of lemon.
4. Note- The taste of the Chicken 65 is mainly on the amount of time it gets marinaded in the masala, i always marinade the chicken pieces the day before i am going to make Chicken 65. By this way the masala will be well absorbed by the chicken pieces. You can also reduce the amount of curd and add one beaten egg to the marination.)