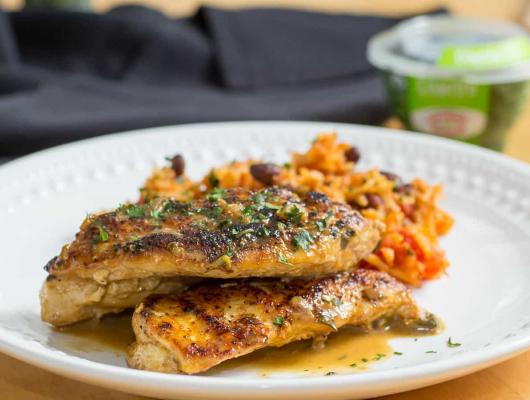 This pan seared chicken and cilantro cream sauce is a quick dinner that cooks in a flash, and is perfect for a weeknight meal. You can serve it with a spicy Mexican rice, or slice it and put it on top of the best taco salad you'll ever have.
Ingredients
Ingredients
1 pound chicken tenders boneless, skinless, and trimmed of any excess fat
salt, pepper, and garlic salt lightly applied to chicken breasts
2-3 tablespoons vegetable oil
1/4 cup finely diced shallot
1 cup chicken broth
2 tablespoon fresh lime juice
1 tablespoons good tequila
1 1/2 tablespoons Gourmet Garden Lightly Dried cilantro OR Cilantro stir-in paste
1/2 teaspoon Gourmet Garden Lightly Dried Red Pepper flakes
1/4 cup heavy cream
1/2 teaspoon salt
Preparation
2. Season the chicken tenders lightly with the salt, pepper, and garlic salt.
3. Preheat the vegetable oil in a large skillet over medium-high heat. Place the chicken in the pan and brown on both sides.
4. Remove from the pan, and add in the shallots and reduce the heat to medium. Cook the shallots, stirring frequently, until they start to soften up. About 2-3 minutes.
5. Add the chicken broth, lime juice, tequila, cilantro, red pepper flakes, heavy cream, and salt. Simmer over medium to medium-low heat for 2 minutes. Add chicken back into pan, and continue on a low simmer, and spoon the sauce over the chicken as it cooks. Cook an additional 3-4 minutes, or until the chicken is cooked through and no longer pink.