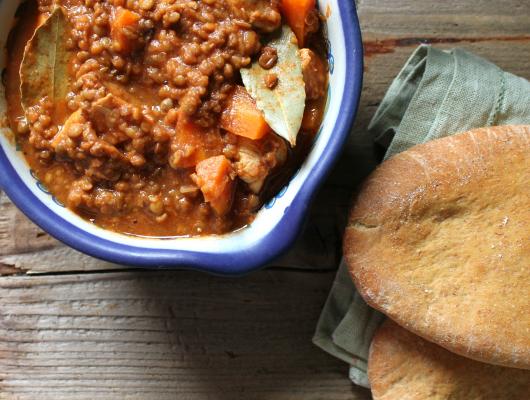 Harissa chicken stew with cranberries and lentils. Homemade cumin pittas to go with it.
Ingredients
For the stew:
1 tbsp olive oil
1 small onion, chopped
2 tsp harissa
2 chicken breasts, chopped
1 tin of puy lentils, drained
2 carrots, peeled and cut into sticks
400ml vegetable stock
4 tbsp tomato puree
2 tbsp cranberry sauce
splash of white wine
1 tsp cornflour (dissolved in a little cold water)
1 tsp cinnamon
2 bay leaves
handful of chopped coriander
For the pittas (makes 4)
190g strong white flour
60g wholemeal flour
1/2 tbsp cumin seeds, toasted
1/2 tsp salt
1 tsp dried yeast
1/4 tsp granulated sugar
150ml warm water
1 tbsp olive oil
Preparation
1.Start by making the pittas. Mix the flours, cumin seeds and salt in a bowl. Separately dissolve the yeast and sugar in a little of the warm water
2. Make a well in the centre of the flour and add the yeast mixture, olive oil and enough of the remaining water and slowly incorporate the wet ingredients to make a firm but soft dough
3. On a floured surface knead the dough for a good 10 minutes (here's where you burn all your calories) or until smooth and elastic in texture. Place in an oiled bowl, cover and leave it to rise for 1 hour or until it has doubled in size. I like to wrap the bowl in a duvet, it works like a treat
4. Knock back the dough for 2-3 minutes, then cover and prove again for 5 minutes.
5. Divide the dough into 4 and shape it into little rolls on a floured surface and with a rolling pin flatten the dough into the characteristic oval pitta shape. Cover and prove for 10 minutes
6. Preheat the oven to 220C and get started on the stew: in a heavy based pan let the oil get hot and brown the chicken. Remove from pan and set aside
7. Fry the onion and harissa until the onion softens. Add lentils and carrots and fry for a couple of minutes
8. Return the chicken to the pan and add all remaining ingredients. Cover and cook it on medium to low heat for about 30-50 minutes
9. Lightly cover a baking tray (or even better a clay baking stone if you have one) with flour and preheat in the oven for 5 minutes. Place the pittas on the hot baking tray and bake for 5-10 minutes or until they are puffed up.
10. Serve the stew with the pittas while they are still warm.