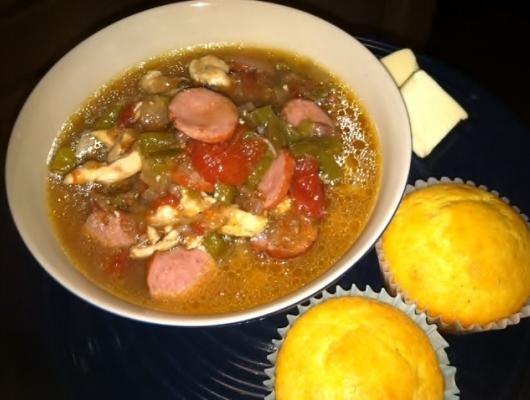 Simple easy to make gumbo.
Ingredients
1 8 oz Chicken Breast 1 link or 7 oz Turkey Sausage
1/4 Medium Onion 1/2 Green Pepper
1 Can of Tomatoes and Okra Low Sodium Chicken Broth
Cajun Seasoning Oil
Brown Rice
Preparation
1. Begin cooking your brown rice. Typically brown rice will take 30-45 minutes. Once the rice starts cooking this should be enough time to prepare and simmer your gumbo having both finish at the same time.
2. Chop your green pepper and onion.
3. Cut your sausage into thin slices.
4. Saute your green pepper, onion, and sausage in a pot together with a small amount of heated oil. Season to taste with cajun seasoning.
5. While you're sauteing the first three ingredients slice your chicken breasts into thin, small strips.
6. Once the vegetables soften and the sausage shows the first signs of browning add the chicken.
7. Cook together until the chicken is almost cooked throughout.
8. If the mix seems too greasy you can drain it. Since I'm using turkey sausage I usually don't drain to keep the flavor.
9. Add your can of tomatoes and okra along with chicken broth until the pot is about 1/2 way full.
10. Let simmer on medium-low heat for at least 15 minutes if not more.
11. Serve over brown rice with cornbread.