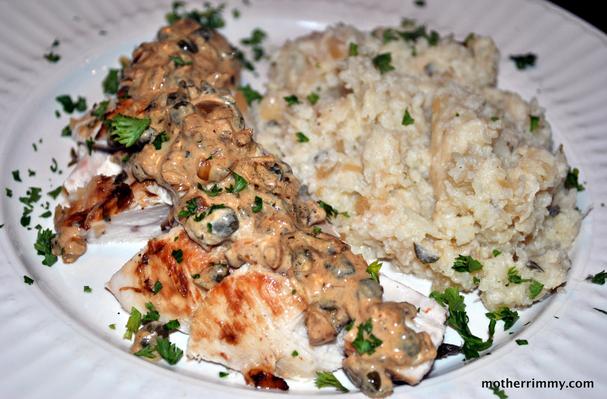 Your family will love this mashed cauliflower with savory herbs and Greek yogurt. What a great way to get them to eat their vegetables!
Ingredients
16 ounces boneless skinless chicken breast
1 head cauliflower, cored and cut into florets
2 tablespoons olive oil
1 medium onion, small chopped
4 cloves garlic, minced
6 tablespoons oregano, fresh finely chopped
1/2 large lemon, juiced and zested
1 cup low sodium chicken broth
1/2 cup white wine
6 ounces low fat Greek Yogurt
1 pinch salt
1 pinch pepper
1/4 cup parsley, minced
Preparation
1. Steam cauliflower in a vegetable steamer until very tender.
2. Preheat oven to 400 degrees.
3. Preheat large nonstick skillet over medium high heat with 1 tablespoon olive oil. Add onion and cook for 5 – 8 min stirring frequently until onion softens and starts to lightly brown. Add chicken broth by tablespoons to keep onions from burning if the pan becomes too dry.
4. Add garlic, oregano, lemon zest and juice, 1/2 cup chicken broth and wine. Cook another 5 minutes to reduce, then set aside in a bowl.
5. In the same pan, add remaining olive oil (1 tablespoon). Add chicken breasts and brown on both sides. Remove from heat.
6. Top chicken with half of the onion mixture and add remaining chicken broth to the pan. Bake for 15 – 20 minutes until chicken is done. Remove chicken to a plate and keep warm, scraping off onion mixture into the pan. Place the pan on the stove over medium heat.
7. Add capers and scrape up bits from the pan into the sauce. Reduce sauce over medium heat for 3 – 5 minutes. If you need more sauce, simply add a little more broth or white wine. Remove from heat and add half of the Greek yogurt, mixing thoroughly to make the sauce.
8. Remove cauliflower to a large bowl and add remaining onion mixture and remaining Greek yogurt. Whip with a mixer until still slightly chunky, but thoroughly combined. Season with salt and pepper.
9. Serve chicken sliced and topped with sauce alongside smashed cauliflower. Garnish with parsley.