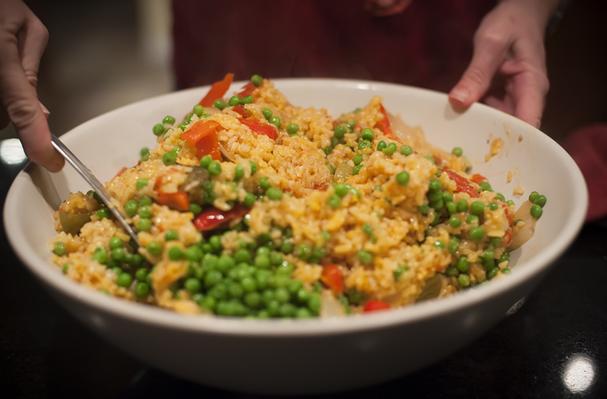 This is adapted from the dish served at the fabulous Columbia Restaurant. It isn't nearly as complicated as it might look at first glance. Add a side of asparagus and a loaf of Cuban bread and you've got dinner. Because it's so good left over, I always make a lot even if we don't have a full table. Just pull the leftover chicken off the bone, mix it in with the rice and reheat. For you vegetarians, I imagine you could simply leave out the chicken and use vegetable broth in place of the chicken broth.
Ingredients
6 Chicken pieces– I used six breasts this night because the dark-meat lovers weren't home.
3 Red and Green Bell Peppers, 3 total
1 Yellow Onion
2 Tomatoes
3 Garlic Cloves
2 Bay Leaves
1 teaspoon Saffron Threads
2 cups White Rice
1 cup Dry White Wine
4 cups Chicken Broth
1 Bag Frozen Baby Peas
Preparation
2. Slice the peppers into thin lengthwise strips and then cut those in half.
5. Heat a bit of olive oil over medium to medium-high heat. I like using this big roaster pan set over two burners. You can use any roaster pan, skillet or saute pan that is large enough and ovenproof.
6. Carefully arrange the chicken in the hot oil. Carefully because the oil tends to pop on you.
7. Season with salt and pepper.
8. Cook the chicken a few minutes, turning a time or two, until it starts to brown. Remove the chicken and set it aside for now.
9. Add all the veggies and the bay leaves. Stir over medium heat for a few minutes, until the vegetables start to soften.
10. Add rice. Stir and cook for a minute or two, until the rice starts to turn a brighter white.
11. Pour in a cup or so of white wine and stir.
12. Add saffron and stir well, continuing until most of the wine is absorbed.
13. Add chicken broth and stir again.
14. Arrange chicken on top of the rice/veggie mixture.
15. Bake at 350 for about 45 minutes, or until the chicken is done and most of the liquid is absorbed into the rice.
16. In the meantime, heat the peas and keep the wine handy.
17. Remove from the oven.
18. Remove the chicken to a platter for now.
19. Scoop the rice into a large bowl.
20. Add peas and stir well.
21. Put the chicken back on top and serve!