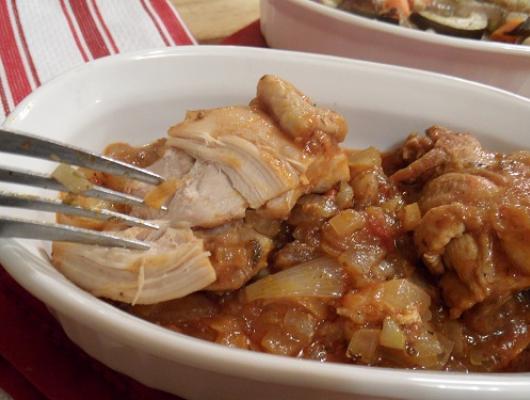 Carlo Giuffre's chicken cacciatore recipe using Kissino sauce is all natural, healthful, wholesome and satisfying. Plus, it makes leftovers!!
Ingredients
1 whole chicken, butchered
2 large yellow onions, chopped
4 cloves garlic, minced
¼ cup olive oil
1 cup chicken stock
½ cup red wine
1 jar Kissino Mushroom Spaghetti sauce (25 ounces)
Preparation
1. Butcher the chicken into regular cuts (thighs, wings, etc). In a large skillet, warm the olive oil over medium heat before adding anything to the pan. Place the chicken pieces in the skillet and brown, 5 minutes each side or until skin is golden brown, careful to keep watch so as to not over-cook. Note: depending on how large your chicken is, you may need to separate the recipe between 2 skillets.
2. Once chicken is browned, remove skillet from heat. Place all pieces of chicken in a large bowl or dish and set aside. In the same skillet, sauté the chopped onion and minced garlic until fragrant and translucent, about 8 minutes. Place chicken pieces back in the skillet, giving each piece as much space as possible. Add chicken stock and wine and bring to a boil. Add the Kissino sauce, stir contents of the skillet around, and return to a boil. Reduce heat to medium low, place a lid on top of the skillet but leave a small crack so that steam can escape and liquids can reduce. Simmer for 45 minutes.
3. Serve the chicken with ample sauce and onions over rice, pasta, or with herb-seasoned marsala roasted vegetables.