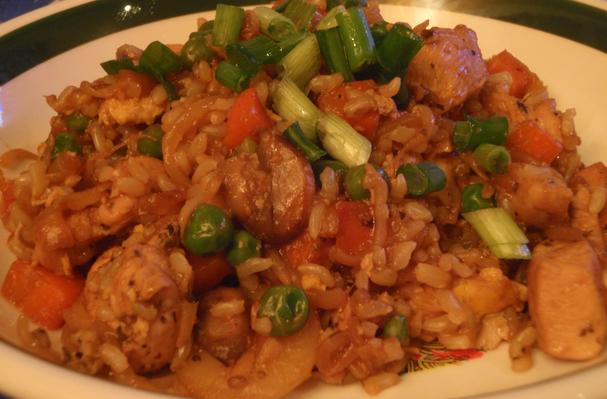 I am always in the mood for Chinese food. I like to make my own Chinese dishes at home to save myself a night full of drinking water to make up for all that salt! I love fried rice and it's very easy to make. Fried rice is best made with day old rice, but you can make the rice ahead of time and let it cool on the counter for an hour or in the freezer for 15-20 minutes on a baking tray. I don't add any salt to this dish since oyster sauce has such a high sodium content.
Ingredients
1 cup short grain organic brown rice
2 cups water
inch (rinse well; cook ahead of time rice cooker or stove top and let cool completely)
1 small large organic chicken breast cut into cubes
2 tablespoons organic peanut oil
1/2 organic onion, diced
2 organic garlic gloves, minced
1 large organic carrot, cubed
2 organic eggs, beaten
15 medium-sized organic sliced mushrooms
1/2 cup frozen organic peas
1/2 cup bean sprouts
1/2 cup water chestnuts
1 1/2 tablespoons oyster sauce
1 tablespoon reduced sodium soy sauce
1 cup sliced green onions
Preparation
1. In a large wok, sauté onion, garlic, and carrots in peanut oil on medium heat until tender.
2. Turn heat up to high and add chicken, eggs, and mushrooms and cook about 7-8 min, tossing the egg around every few minutes. The chicken should be almost cooked at this point.
3. Add frozen peas, sprouts, water chestnuts, oyster and soy sauces and mix well, heating entire dish through, about 3-4 min more. Check that chicken is cooked.
4. Garnish with freshly sliced green onions and serve immediately. Enjoy!