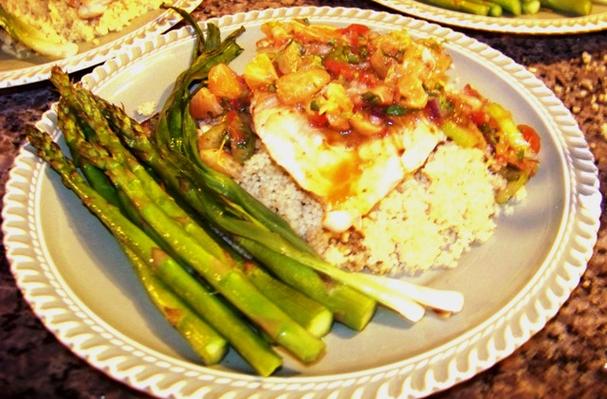 What the heck are paillards? I asked the exact same question when I saw a version of this recipe in the December issue of Bon Appetit. So, I looked it up. Paillards are scallops of veal or chicken pounded thin and then grilled or sauteed rapidly. I know, a fancy word for a simple thing, but I like it.
I loved the use of clementines in a salsa. They are very much in season now and a big bag of these sweet little lovelies can be had for as little as $4. In trying to keep the salsa fresh, I used a couple of green chilies we had grown in the garden this summer and preserved. Unfortunately, tomatoes are not anywhere near in season right now. What you find in most grocery stores these days are both colorless and tasteless. For that reason, I used canned diced tomatoes.
My version of this recipe is lightened up by using less oil and smaller portions of chicken. I served it over some garlic-infused whole-wheat couscous and paired it with a combination of grilled asparagus and scallions.
For my Weight Watchers friends, this whole plate is 7 points.
Let's eat!
Ingredients
4 3-ounces chicken breast halves
1 teaspoon extra-virgin olive oil
4 clementines, peeled and diced (about 1 cup)
1 cup diced tomatoes, drained
1/2 cup diced red onion
1/2 cup diced celery
1/4 cup coarsely chopped fresh basil
1/4 cup coarsely chopped fresh cilantro
2 tablespoons fresh lime juice
2 green chillies, seeded and minced
1/2 cup fresh clementine juice (about 6 clementines)
Preparation
1. One at a time, place chicken breast halves in a sealed plastic bag and pound to about 1/4-inch thickness. Rub with salt and pepper.
2. For the salsa, combine clementines with next 7 ingredients. Set aside.
3. In a large skillet, heat oil over medium-high heat. Add chicken and saute about three minutes a side. Remove chicken and set aside, covered to keep warm.
4. In the same skillet, add juice and scrape crispies from the bottom of the skillet. Cook down by half. Plate chicken, top with sauce and then salsa.