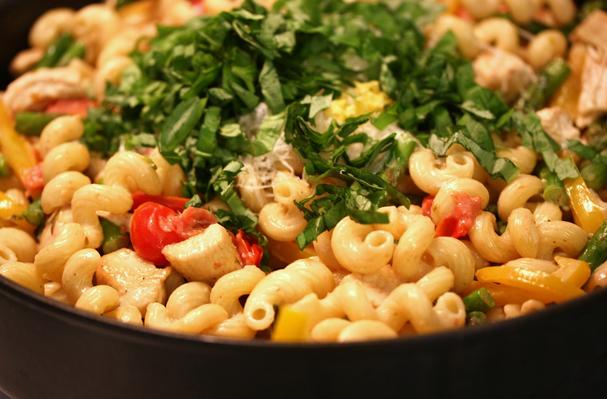 I know I boss you around all the time, telling you to make this or bake that. But this time, I'm serious. You have to make this. Or else.
And I'm not one of those empty-threat ladies. If you opt not to make this, well, trust me – it won't be pretty.
Having said that, I've often wondered if bullying isn't my best course of action. Perhaps I should at least make an effort to appeal to your good sense.
Reasons you should make this:
1. It's a reason to buy Cavatappi pasta. (And pasta is Cheap!)
2. It's got 6 different kinds of veggies in it.
3. You get to chop 6 different kinds of veggies! (Chopping veggies is my therapy, along with plucking my eyebrows and weeding my garden. I'm always slightly less on-kilter during non-gardening months, for this reason.)
4. Your husband will have thirds.
5. Your babies will eat it.
6. Most important of all – it's pretty.
Now, since I was so level-headed, I will reward myself with a hearty dose of pushy right here at the end: Buy a wedge of Parmesan cheese and grate it with one of these (you can also use it to zest your lemon). You will experience some sticker shock the first time you pony up for the wedge, but I promise, hand to heart: this wedge will last you ages and ages. And nothing beats the taste, this I can assure you.
Ingredients
12 ounces Cavatappi pasta
2 green onions
4 teaspoons olive oil
3 boneless, skinless chicken-breasts, cut into bite-sized pieces
Salt
Pepper
Zest of one lemon
1 or 2 squeezes of fresh squeezed lemon juice
1 clove garlic – chopped
1 pound asparagus – trimmed and cut into 1-inch pieces
1 medium yellow pepper, thinly sliced
1 pint grape tomatoes, halved
1/2 cup heavy cream
1/4 teaspoon crushed red pepper
1/2 cup Parmesan cheese, freshly grated
1 cup chopped, fresh basil
Preparation
1. Boil pasta as directed.
2. Drain pasta, reserving 1/2 cup pasta cooking water.
3. Return pasta and reserved cooking water to pot.
5. Heat 2 teaspoons oil in a skillet on medium-high until hot. Sprinkle chicken with salt and pepper.
6. Add chicken to skillet and cook 7 minutes or until chicken is cooked through, stirring occasionally. Transfer chicken to medium bowl; set aside.
7. To same skillet, add remaining 2 teaspoons oil; reduce heat to medium.
8. Add green onions and garlic and cook 1 minute, stirring.
9. Add asparagus and red pepper; cook 6 to 7 minutes or until vegetables are crisp-tender, stirring frequently.
10. Stir in cream, crushed red pepper, and 1/4 teaspoon salt. Heat mixture to boiling on medium high.
11. Add halved tomatoes, lemon zest and lemon juice.
12. Cook 1-2 minutes on medium heat, until tomatoes just start to break down.
13. Stir in reserved chicken pieces and remove skillet from heat.
14. Add Parmesan, chicken mixture, and basil to pot with pasta and reserved cooking water.
16. Garnish with more basil and Parmesan, if you're so inclined.