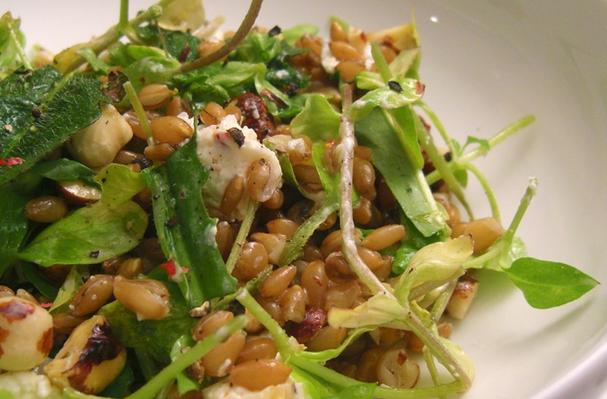 Chickweed is all over the Internet these days. It's a great foraged green that has lots of vitamins. It can be made into soups, salads, and a chimichurri.
Ingredients
1 pound triticale
3 tablespoons Bourbon (or whiskey)
2 teaspoons sugar
5 ounces goat cheese
3 dried spicy peppers
cup olive oil
1 tablespoon lemon juice
Sea salt
1 cup hazelnuts
3 large handfuls of greens (chickweed, salad greens, forag
Preparation
1. Mince the dried peppers or pulverize them with a mortar and pestle or a food processor. Soak them in a small bit of olive oil while you continue to work on the salad.
2. Rinse the soaked triticale and boil it in a pot for 30 minutes. Drain and rinse with cold water. Set aside.
3. Toast the hazelnuts in a skillet over low heat until they give off a nice aroma and start to brown.
5. Mash the goat cheese and the pepper flakes soaked in olive oil.
6. Mix the 1/3 cup olive oil with the 3 Tbsp of Bourbon, 1 tsp of sugar, and the 1 Tbsp of lemon juice.
7. Mix the triticale, nuts, dressing, and greens. Season with salt and pepper. Crumble the goat cheese on top and serve.