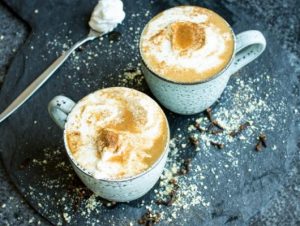 Vegan Chai Tea Lattes, ready in under 15 minutes!
Ingredients
Chai Spice Mix
1 tbsp Ground Cinnamon
2 tsp Ground Cardomom
1.5 tsp Ground Ginger
1 tsp All Spice
pinch of Nutmeg
Chai Lattes
1-2 tbsp Chai Spice Mix
2 Black Tea Bags
2 cups Water
1 cup Oat Milk can be replaced with any plant milk of your choice
2 tbsp Maple Syrup or other natural sweetener
Coconut Whip Cream optional
Preparation
1 Heat the water in a medium sized saucepan with 1-2 tablespoons of the chai spice mix*. Bring to a boil. once boiling, turn off the heat and let the mixture steep for 5 minutes. Add the teabags and maple syrup and return the mixture to a boil. Once boiling, again turn off the heat and allow to steep for a further 5 minutes.
2 Remove the teabags and pour the mixture evenly into two cups through a seive to remove any excess spices.
3 Heat up your oat milk and pour into the mugs to mix with the tea. Add some coconut whip on top with an extra sprinkle of cinnamon if desired.