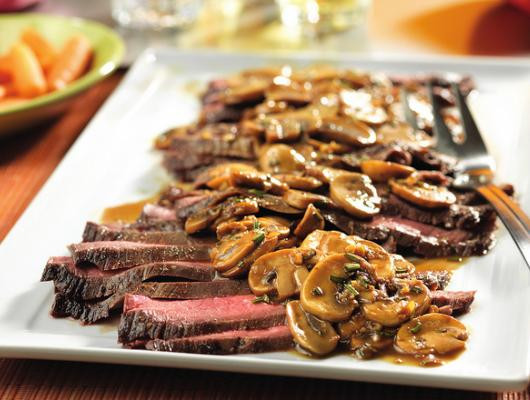 Trendy and tasty, this skillet recipe is a simple and delicious way to prepare flank steak…and the flavorful sauce is absolutely divine!
Recipe Note: Slicing the beef on the diagonal, against the grain, makes this traditionally tough but flavorful cut of meat more tender.
Ingredient Note: It you decide to use skirt steak for this recipe, you may need to cut it into 4 pieces to fit it into the skillet.  If the pieces crowd the skillet, cook them in batches to ensure the best browning.
Ingredients
2 tablespoons olive oil
1 beef flank steak or beef skirt steak (about 1 pound)
2 tablespoons butter
8 ounces mushrooms, sliced (about 3 cups)
1 shallot, diced
1 clove garlic, minced
1 tablespoon chopped fresh rosemary leaves
2 packets Swanson® Flavor Boost™ Concentrated Beef Broth
1/4 cup water
Preparation
1. Heat 1 tablespoon oil in a 10-inch skillet over medium heat. Add the beef and cook until well browned on both sides and until desired doneness, about 10 minutes for medium-rare. Remove the beef from the skillet.
2. Heat 1 tablespoon butter and the remaining oil in the skillet. Add the mushrooms and cook for 5 minutes or until tender, stirring occasionally. Add the shallot, garlic and rosemary and cook and stir for 30 seconds. Stir in the concentrated broth, water and remaining butter and cook until the butter is melted.
3. Cut the beef diagonally against the grain into thin slices. Serve the mushroom mixture with the beef.