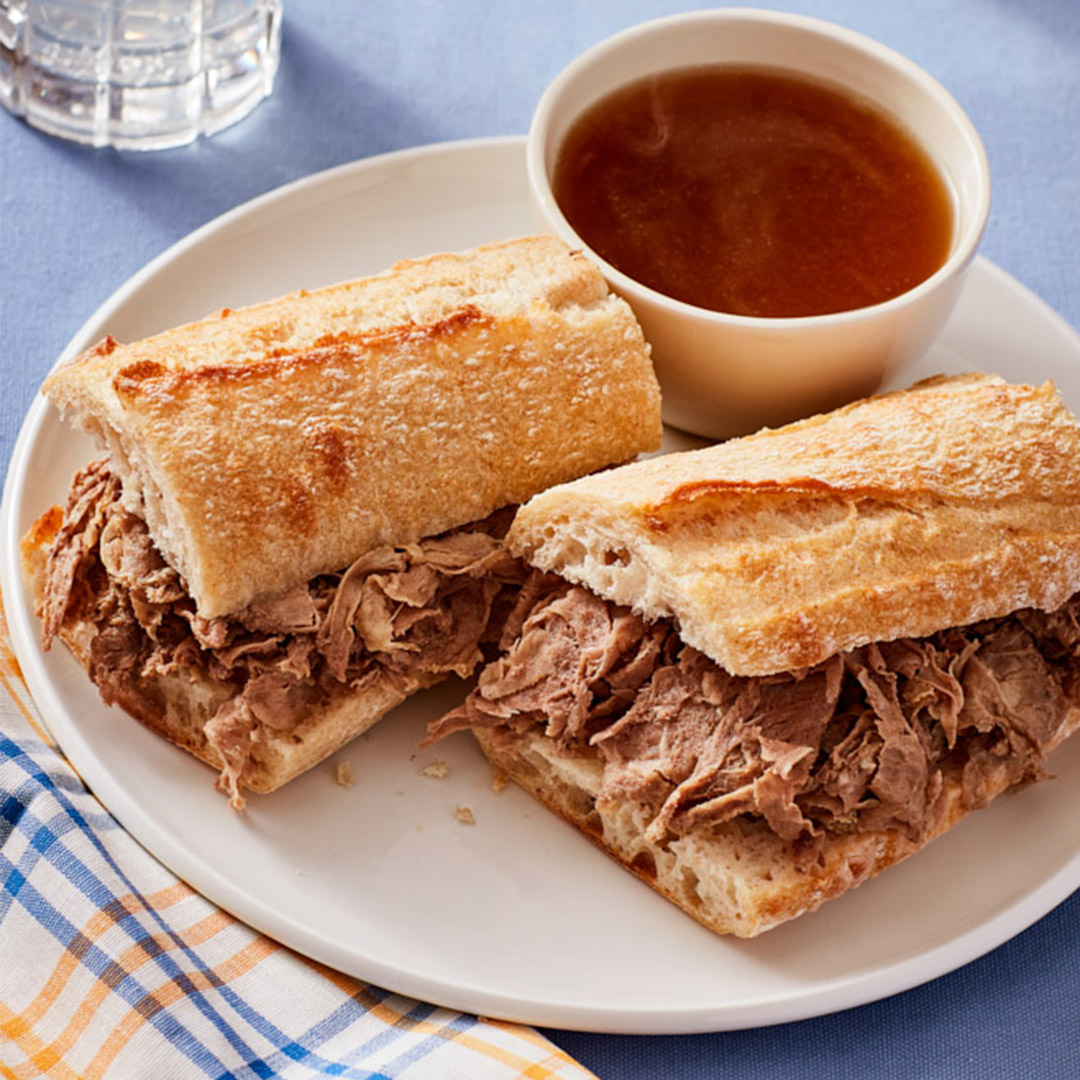 An old-school diner sandwich, a French dip is really only as good as the bread it's made with— which should be a baguette or a narrow French loaf that is decidedly crunchy, not soft and gummy. If the baguette is soft, put it in a 300°F oven for perhaps 10 minutes to get it crisp. That way, it'll stand up to the "dip" (the pan juices) without becoming soggy. There's a slight chance the cooked beef might still be pink inside, depending on the thickness and density of the frozen shaved beef. If the meat is pink, turn the pot to HIGH on its SAUTÉ function after cooking under pressure and breaking up the beef. Cook, stirring often, until the meat is cooked through, about 2 minutes.
INGREDIENTS
3

 

cups

 

beef or chicken broth

1/2

 

cup

 

frozen chopped onion

 

or 1 small yellow or white onion; peeled and chopped

1

 

tbsp

 

stemmed thyme leaves

 

or 1 1/2 tsp dried thyme

1

 

tsp

 

onion powder

1

 

tsp

 

garlic powder

1/2

 

tsp

 

table salt

1/2

 

tsp

 

ground black pepper

2

 

lbs

 

frozen shaved beef

butter

 

for the sandwiches

A French baguette

 

(gluten-­free if that is a concern), cut into 4‑ to 6‑inch lengths, each sliced open length wise
INSTRUCTIONS
Stir the broth, onion, thyme, onion powder, garlic powder, salt, and pepper in an Instant Pot. Set the frozen block of meat in the liquid and lock the lid onto the pot.

Option 1 Max Pressure Cooker
Press Pressure cook on Max pressure for 8 minutes with the Keep Warm setting off.

Option 2 All Pressure Cookers
Press Meat/Stew, Pressure cook or Manual on High pressure for 10 minutes with the Keep Warm setting off. The valve must be closed.

Use the quick-­release method to bring the pot's pressure back to normal. Unlatch the lid and open the cooker. Use the edge of a large, metal spoon and a meat fork to break the meat into chips and strips.

Lightly butter the inside of the baguette slices. Use tongs to transfer the strips of meat to the buns to make sandwiches. Pour the (hot!) liquid from the cooker into a serving bowl or small soup bowls. Use this broth as a dip for the sandwiches.
RECIPE NOTES
Beyond
• To simplify this recipe,substitute three 9-ounce boxes of frozen Steak-umm sliced steaks for the shaved beef. Break each Steak-umm sheet into three or four long strips. Cook these at MAX for 1 minute or at HIGH for 2 minutes with a QUICK RELEASE.
• For a more sweet-and-sour flavor, add up to 2 tablespoons steak sauce (such as A.1.) and 1 teaspoon granulated sugar
* Using a –­20°F CHEST FREEZER?
There is no difference in cooking times.