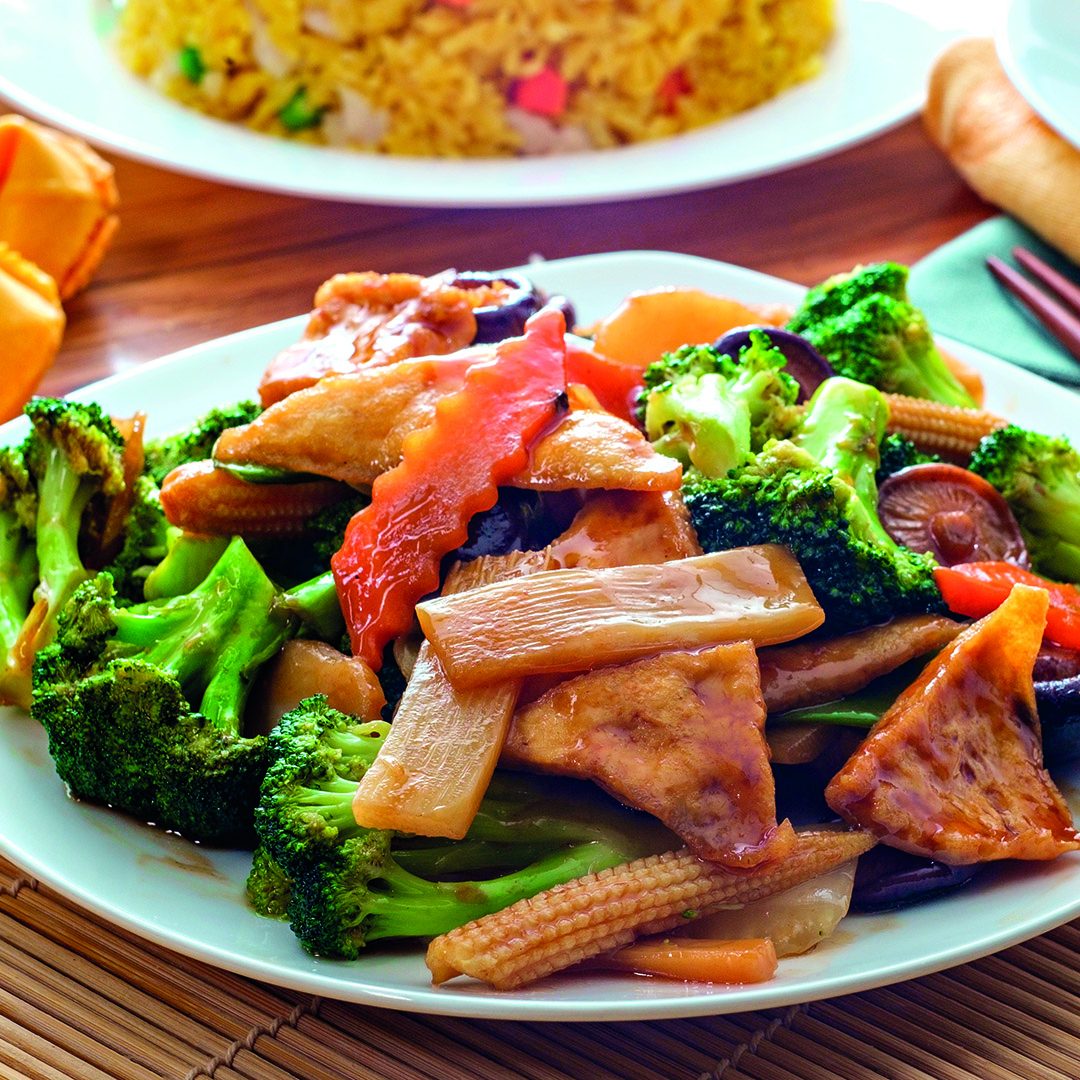 Photo Credit:- Cosori Air Fryers
Commonly known as Buddha's Delight or lo han jai, this vegetarian dish is eaten on the first day of the Chinese New Year. I've turned it into an everyday dish using some of my favorite vegetables with miso paste added for a truly delicious sauce!
INGREDIENTS

1

 

tbsp

 

vegetable oil

3

 

tbsp

 

minced Garlic

 

(3 medium cloves)

3

 

green onions

 

white parts finely chopped, green parts cut into 2-inch (5-cm) pieces

2

 

tbsp

 

white miso

1

 

large carrot

 

peeled and cut into 1-inch-thick (2.5-cm) pieces

4

 

oz

 

fresh or rehydrated* black mushrooms

 

halved (save the mushroom soaking water if using dried), 120 g

8

 

oz

 

Chinese cabbage

 

cored and cut into 2-inch (5-cm) squares, 225 g

8

 

oz

 

Firm tofu

 

cut into 1-inch (2.5-cm) squares or triangles 2 dried tofu sheets, broken into 2-inch pieces, soaked for 15 minutes in warm water and drained, 225 g

2

 

oz

 

spoons soy sauce

 

60 g

1

 

tsp

 

sugar

1/2

 

tsp

 

fine sea salt

1

 

small bundle mung bean noodles cut into shorter pieces

 

1 ounce/30 g

1

 

cup

 

mushroom soaking water or water

1

 

tsp

 

sesame oil
INSTRUCTIONS
Select SAUTÉ and set to MEDIUM/NORMAL. Add the vegetable oil. When the pot is hot, add the garlic and the white portions of the green onions. Stir and cook until fragrant, 30 seconds. Add the miso paste and stir and cook for 30 seconds. Add the carrot, cabbage and mushrooms, stirring between each addition. Stir and cook for 1 minute. Press CANCEL.

Add the soy sauce, sugar and mush-room water. Stir to mix, scraping the bottom of the pot to remove any cooked-on bits and avoid the BURN warning.

Add the tofu skin and mung bean noodles and mix everything together. Make sure the noodles are covered. Lock the lid. Select PRESSURE COOK/MANUAL and set the pressure to HIGH for 2 minutes. Make sure the steam release valve is sealed. Once pressurized (8 to 10 minutes), the cook cycle will start. When the timer beeps, manually release the pressure. When the float valve drops, press CANCEL and open the lid.

Add the sesame oil and remaining green onions. Stir for 1 to 2 minutes until the sauce reduces a little. There should be some sauce left, and it will thicken on standing. Serve immediately with steamed rice.
RECIPE NOTES
NOTES: White miso or shiro miso is made from soybeans that have been fermented with a large percentage of rice. The actual resulting color can range from white to light beige, and the miso has a definite sweet taste. Use more soy sauce or salt if you prefer not to use it.
Other than Chinese cabbage, bok choy, chrysanthemum greens or other leafy Chinese greens would be great in this dish. Snow peas too!
If you can't find dried tofu sheets, use more firm tofu or tofu puffs.
*HOW TO PREPARE DRIED MUSHROOMS
Rinse then soak the mushrooms in warm water for at least 30 minutes. If you can plan ahead, soak them for 8 hours or more. When the caps are tender, pluck them out and squeeze out the excess water with your hands. Save the soaking water to use in your recipe.
Source :- Cosorithis