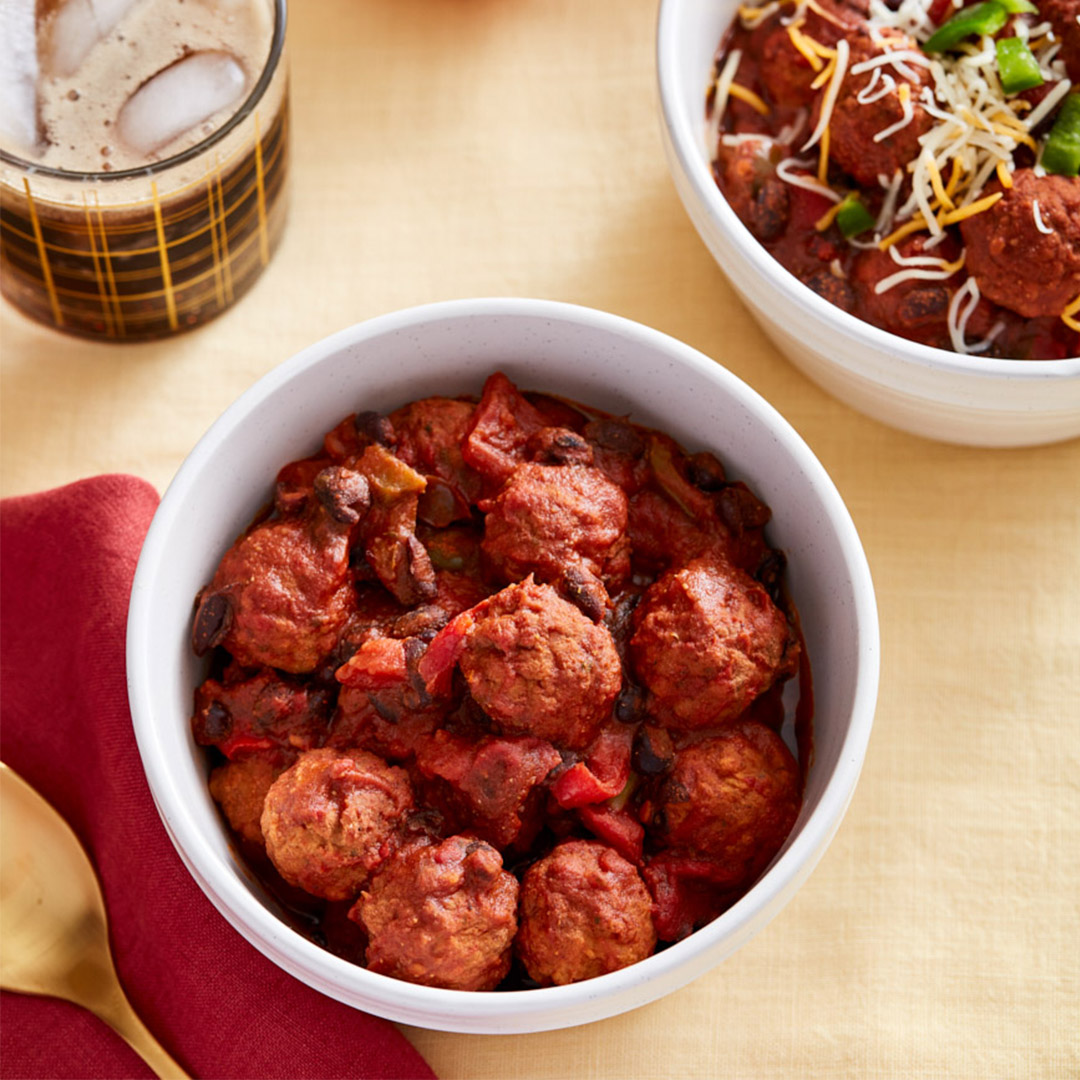 Dinner can't get much easier! You can use this recipe as a road map of sorts. Vary the salsa (maybe even a green salsa?) and the type of meatballs. We tested this with Italian-style meatballs, but there are lots of other varieties on the market. And it needn't be beef meatballs. Consider turkey, even buffalo. Or make a vegan chili with vegan meatballs and vegetable broth. The only trick is to use frozen mini meatballs.
INGREDIENTS
3

 

cups

 

chunky-­style mild or hot red salsa

 

(24 ounce jar)

3 1/2

 

cups

 

white, black, or navy beans

 

(30 ounce) jar drained and rinsed

2

 

cups

 

beef

 

chicken, or vegetable broth

8

 

ounces

 

frozen bell pepper strips

 

or 2 medium red or green bell peppers; stemmed, cored, and cut into thin strips, 2 cups

1/4

 

cup

 

chili powder

1

 

tsp

 

ground cumin

1/2

 

tsp

 

table salt

25

 

ounce

 

frozen mini or bite-­sized meatballs

 

1 ounce each, even vegan and/or gluten-­free if that's a concern (1 bag)

2/3

 

cup

 

tomato paste

 

1 can 6 ounce
INSTRUCTIONS
Press the button for SAUTÉ and set it for HIGH, MORE, or CUSTOM 400°F. Set the time for 10 minutes,

Mix the salsa, beans, broth, bell pepper strips, chili powder, cumin, and salt in an Instant Pot. Cook, stirring often, until many wisps of steam rise from the liquid. Turn off the SAUTÉ function and stir in the meatballs. Lock the lid onto the cooker.

Option 1 Max Pressure Cooker
Press Pressure cook on Max pressure for 5 minutes with the Keep Warm setting off.

Option 2 All Pressure Cookers
Press Bean/Chili, Pressure cook or Manual. Set if for High pressure for 8 minutes with the Keep Warm setting off. The vent must be closed

Use the quick-­release method to bring the pot's pressure back to normal. Unlatch the lid and open the cooker.

Press the button SAUTÉ and set it for HIGH, MORE, or CUSTOM 400°F. Set the timer for 5 minutes.

As the chili comes to a simmer, stir in the tomato paste until smooth. Continue cooking, stirring often, until somewhat thickened, 1–2 minutes. Turn off the SAUTÉ function and set aside for 5 minutes to continue to blend the flavors and help the chili to set up.
RECIPE NOTES
Beyond
• Of all the chilis in this book, this one calls out most to be served over cooked, long-grain, white rice.
• Or go all out and serve it over cooked buckwheat (not kasha, but dried, plain buckwheat).
• Garnish the servings with sour cream, pickled jalapeño rings, minced fresh jalapeño, minced red onion, pickled onions, and/or shredded cheese, particularly sharp
Cheddar.
Source:- Cosorithis