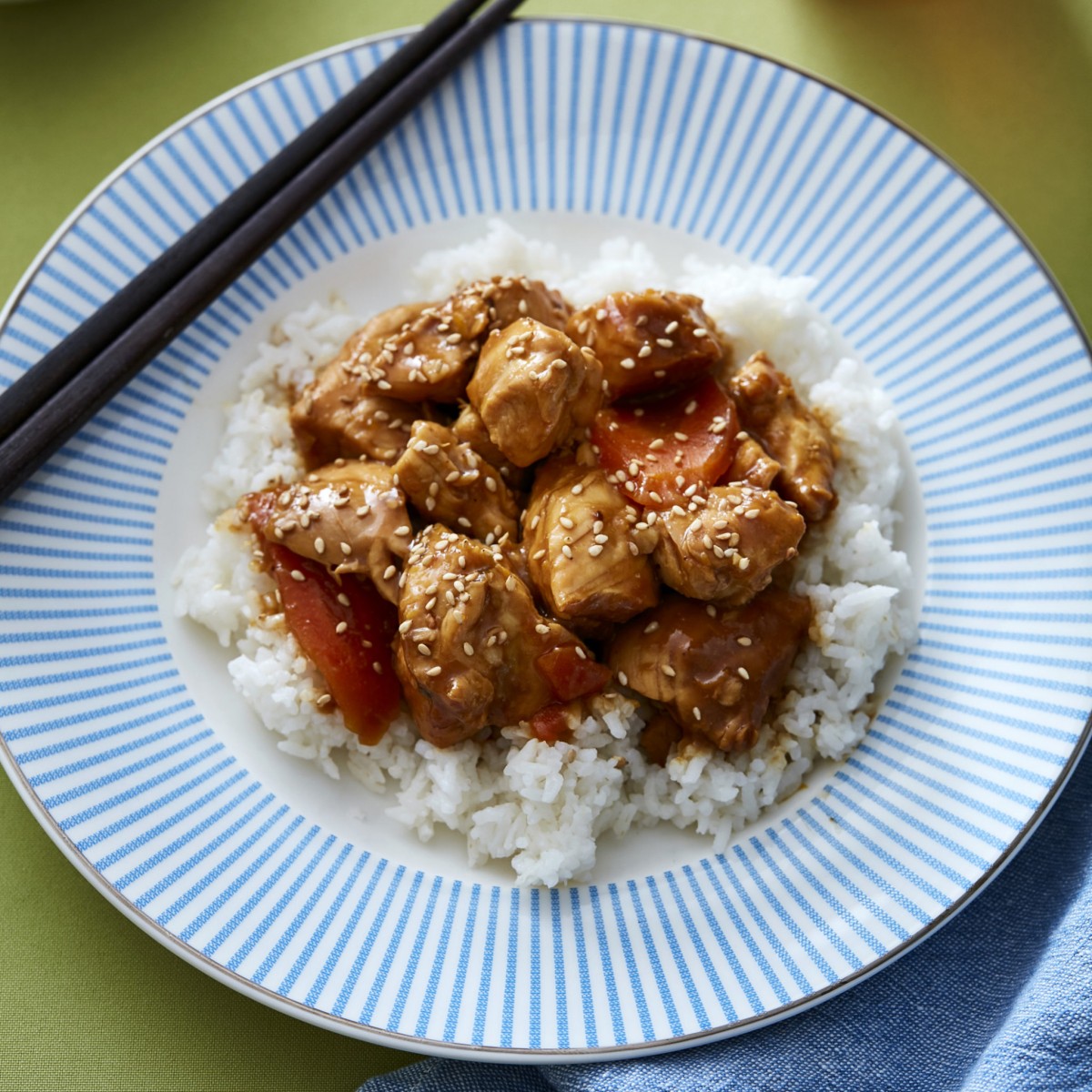 We've simplified this popular dish by using chicken tenders, which cook more quickly in the flavorful sauce — made with lots of orange juice and a little orange zest for a brighter flavor. The dish is fairly sweet, so don't stint on the garlic which will balance the flavors. You can even double the garlic, if you want! There's no soy sauce or vinegar here, just as in the original recipe. That said, you could add up to 2 tablespoons unseasoned rice vinegar with the other ingredients for a more sophisticated take.
INGREDIENTS

2

 

lbs

 

chicken tenders

 

each cut into 4 pieces

3

 

medium carrots

 

thinly sliced (1 1/2 cups)

3

 

medium garlic cloves

 

minced (1 tbsp)

1

 

tbsp

 

finely grated fresh orange zest

 

from about 2 medium oranges

1

 

cup

 

pulp-free orange juice

1/3

 

cup

 

Hoisin Sauce

 

(gluten-free if necessary )

3

 

tbsp

 

granulated white sugar

1/2

 

tsp

 

table salt

1/2

 

tsp

 

ground black pepper

1 1/2

 

tbsp

 

dditional water

1

 

tbsp

 

cornstarch
INSTRUCTIONS
Stir the chicken, carrots, garlic, zest, orange juice, hoisin sauce, sugar, salt, and pepper in the insert set in a 5-, 6-, or 8-quart Instant Pot until the sugar dissolves and the mixture is uniform. Lock the lid onto the cooker.

For Pressure Cook: Set the Instant Pot for Pressure Cook or Manual and set the pressure level to LOW. The valve must be closed. Set the time for 6 minutes with the Keep Warm Setting off.
–OR– <br< <strong="">For Slow Cook: Set the Instant Pot for Slow Cook and set the level to High. The valve must be open. Set the time for 2 hours with the Keep Warm setting off.</br<>

When the pot has finished cooking under pressure, use the quick- release method to bring the pressure back to normal. Whichever cooking method you've used, unlatch the lid and open the cooker. Whisk the water and cornstarch in a small bowl until smooth.

Press Sauté and set it for Medium, Normal or Custom 300°F. Set the time for 5 minutes.

Stir quite often while the chicken mixture comes to a simmer. Stir in the cornstarch slurry and continue cooking, stirring almost constantly, until bubbling and thickened, less than 1 minute. Turn off the heat and use hot pads or silicone baking mitts to remove the (hot!) insert to a nearby wire rack. Cool for 2 to 3 minutes before serving warm.
RECIPE NOTES
Other Pots
• For a 3-quart Instant Pot, you must halve all of the ingredient amounts.
• For an 8-quart Instant Pot, you can increase all of the ingredient amounts by 50 percent.
Beyond
• Sprinkle servings with sesame seeds and/or the minced scallions.
• The dish needs a good batch of rice as its base.
Photo Credit:- Cosori Air Fryers