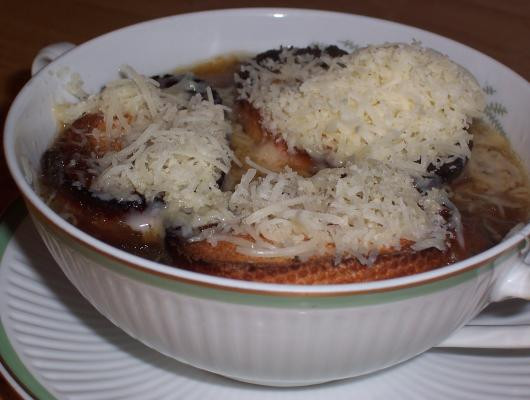 A more traditional way is to serve with croutons that are browned basted with Olive oil and rubbed with garlic and perhaps sprinkled with cheese. It can also be served without the cheese on the croutons and the cheese served on the side.
I prefer to serve it this way. the cheese does not congeal to a large hard to separate mass on top of the bowl, making it easier to eat each spoonful of soup without having to cut and untangle the cheese. Plus you can add more cheese as you please.
Traditional recipes call for the addition of vermouth or sherry, and a finishing touch of cognac. While they certainly do enhance the flavor of the soup they aren't an absolute necessary item. Well cooked onions and a good beef stock cooked properly will suffice. The recipe to follow is for 4 servings.
Also the cheese can certainly be varied. Tradition is for Swiss or Parmesan. You can use Gruyère, and in this recipe I used a combination of grated Asiago and Parmesan.
Ingredients
5-6 medium to large yellow onions thinly sliced
2 Tbs butter
1 Tbs oil
2 tsp sugar
1 tsp salt
1½ Tbs all purpose flour
4 cups good quality Beef stock
4 Tbs vermouth or sherry (optional)
salt & pepper to taste
2 Tbs cognac (optional)
Toasted slices of baguette
1 clove garlic (optional)
1 cup grated cheese
Preparation
1. Thinly slice the onions and in a large saute pan with the butter and oil begin to brown them on medium-low heat.
2. Cover them for the first 10 minutes. Then remove the cover add the sugar and salt and continue to cook, bringing the heat up to medium. You need to keep a careful eye on the onions stirring frequently to prevent burning. It will take about 30 -40 minutes for the onions to achieve an even deep golden brown color.
3. While the onions are cooking place your stock into a pan large enough to accommodate all the ingredients and bring it up to a simmer.
4. When the onions are cooked add the flour, stir to combine and cook for about 3 minutes. During this time bring the stock up to a boil.
5. Add the onions to the boiling stock and if using the vermouth add it now and reduce the heat and simmer the mixture for about an hour covered. While it is simmering, taste to adjust the seasoning if necessary.
6. Just before serving, bring the soup up to a boil to heat and toast the slices of baguette and when browned rub both sides with the garlic. Add the cognac to the soup if you are going to use it and then ladle the soup into bowls and float the toasted baguette rounds on top. Serve with the grated cheese on the side.