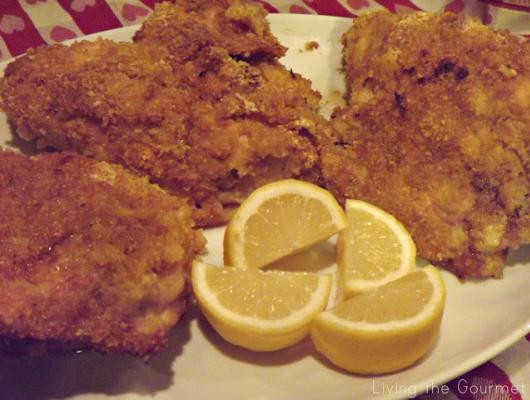 These are a wonderful alternative to fried and are juicy and tender.
Enjoy with Love,
Catherine
xo
Ingredients
4 – Split chicken breasts with bone
For the Marinade:
1 tsp. sugar
1 tsp. garlic powder
1 tablespoon vinegar
Juice of 2 lemons
1 tsp. salt
½ tsp. chili powder
For the Coating:
3 cups Corn Flakes
½ cup corn meal
2 eggs – beaten with a splash of water
1 cup flour
½ tsp. salt
½ tsp. garlic powder
½ tsp. black pepper
½ tsp. chili powder
½ tsp. garlic powder
Olive oil for drizzling
Preparation
1. Place all of the above ingredients in a bowl and place the chicken breasts to marinade. Cover the bowl and place in the refrigerator for at least one hour or up to overnight.
1. Place the corn flakes in a food processor and process until smooth. Place in a bowl and add the cornmeal to the processed cornflakes. Add the seasonings.
2. Set up three shallow bowls, one with the flour, one with the egg wash and one with the corn flake crumbs.
3. Dip the chicken first in the flour, then the egg wash and finally in the corn flake crumbs.
4. Place in a baking pan and drizzle olive oil over the pieces.
5. Preheat Oven 350 degrees:
6. Bake 40 – 45 minutes, or until juices run clear, depending on the size of the chicken breasts.