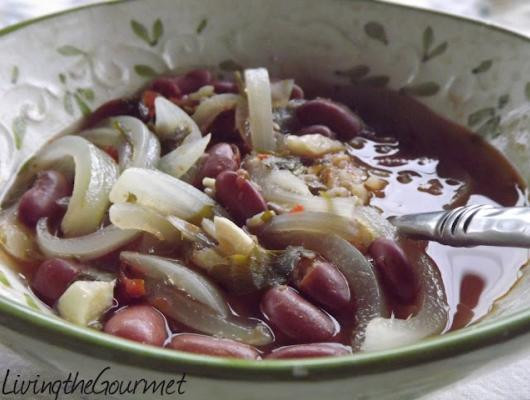 This is a quick and easy soup for lunch or dinner.
With Love,
Catherine
xo
Ingredients
6 – 8 cups of chicken broth
1 sweet onion – sliced
3 cloves of garlic – chopped
Healthy handful of Italian parsley – chopped
1 cup of crushed tomatoes
29 oz. can of red kidney beans – drained
Juice of ½ lemon
½ tsp. of salt
Dash of black pepper
Dash of dried oregano
Dash of smoked paprika
Dash of chili powder
Dash of ground curry
Romano cheese for grating
Olive oil
Preparation
1. Heat a drizzle of olive oil in a sauce pot and add the onions and garlic to sauté. When the onions are soft and transparent add the chopped parsley and chicken broth.
2. Gently simmer for a few minutes. Add the crushed tomatoes and the drained beans and continue to gently simmer on low.
3. Add the seasonings to taste and simmer while preparing your favorite noodles or rice.
5. Grate Romano cheese when serving.