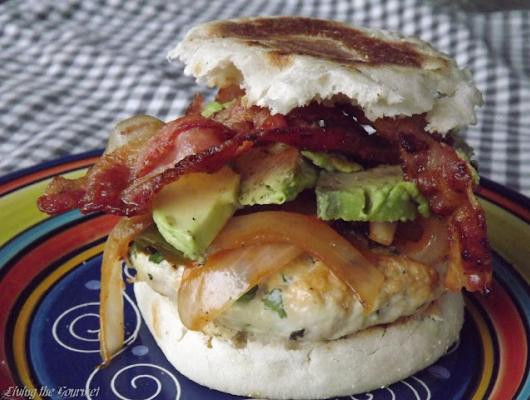 These burgers are a nice change of pace for burger night!
Enjoy with Love,
Catherine
xo
Ingredients
3 lbs. boneless chicken breast
Healthy handful of cilantro – chopped
4 oz. Monterey Jack cheese – shredded
Dashes of ground cumin
Dashes of garlic powder
1 tsp. of brown sugar
½ tsp. salt
¼ tsp. black pepper
Zest and juice of 1 lime
1 lb. bacon
Your favorite bread for the burger
Sliced avocado – for the burger
Sautéed Onions:
1 large Spanish onion – sliced
1 jalapeño – chopped with seeds
1 tablespoon of vinegar
1 tsp. brown sugar
1 tablespoon ketchup
Drizzle of olive oil
Preparation
1. Prepare the bacon and set aside. Reserve some of the bacon fat to cook the burgers in.
2. Cube the chicken breast and place in a food processor and give a few good chops. Do not over process the meat.
3. Add the cilantro, shredded cheese, lime zest and lime juice. Add all of the seasonings and mix well.
4. Form into the desired size burgers.
5. Heat a large frying pan with the drippings from the bacon and a little drizzle of olive oil.
6. Carefully, place the burgers in the hot frying pan and let the burgers get a nice golden color on one side before flipping.
8. Heat a griddle or large frying pan or griddle with a drizzle of olive oil.
9. Place the sliced onions and jalapeño in the pan to sauté. Allow the onions to get a beautiful golden color.
10. Place the onions and jalapeño in a small serving platter.
11. Mix together the vinegar, brown sugar and ketchup in a small bowl. Add to the onions and jalapeño and toss.
13. Toast the bun and top with the burger, bacon, avocado and onions. Try a little mayonnaise on your burger; it is a nice change from ketchup.