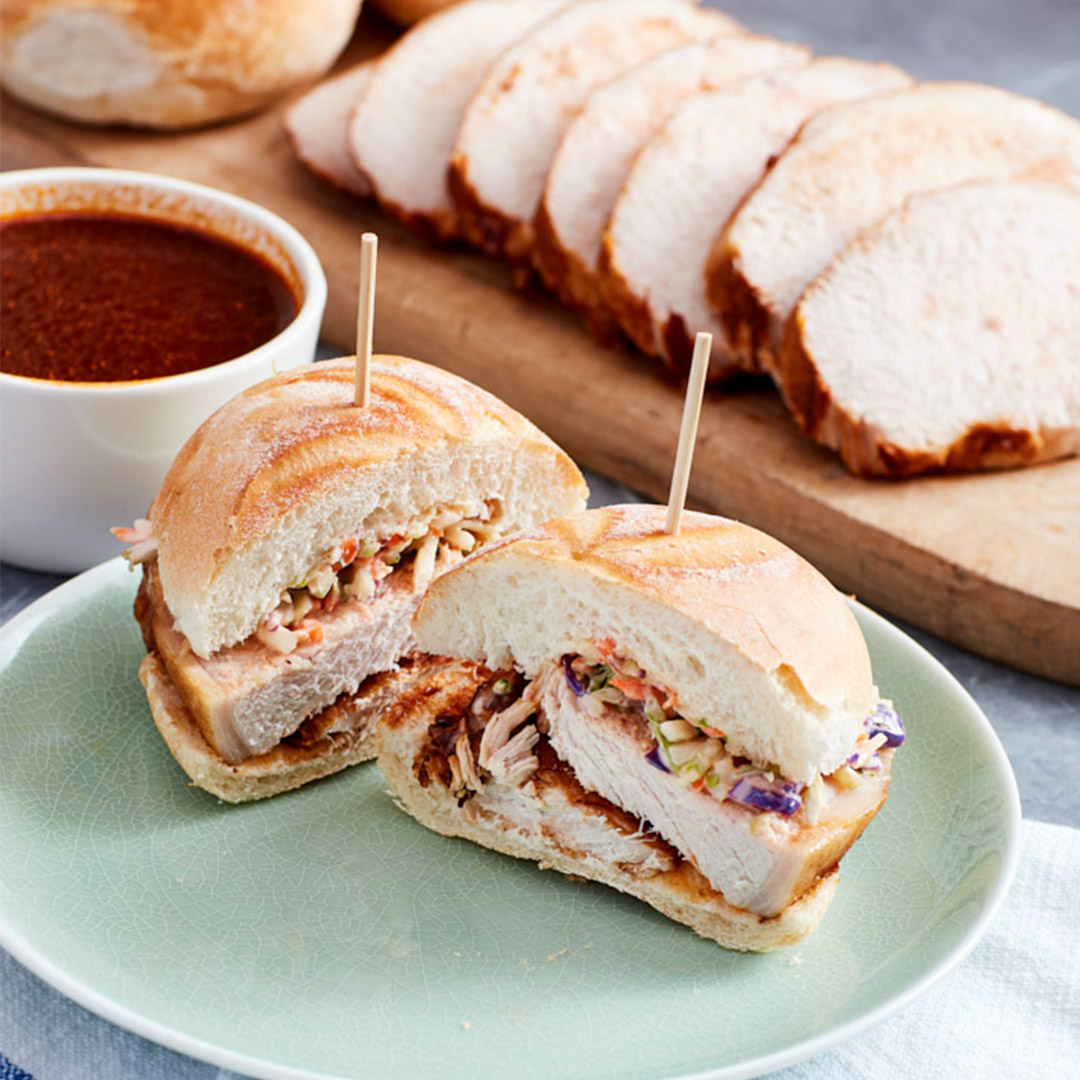 This one is not pulled pork. Rather, the pork loin is sliced into rounds and served with the barbecue sauce. Remember that the liquid you choose will dramatically affect the sweetness of the finished dish. If you go with beer or cider, you'll want to use a far less-sweet barbecue sauce, probably a hot one with chipotles in the mix.
INGREDIENTS
1 1/2

 

cups

 

purchased barbecue sauce of any sort

1

 

cup

 

thin liquid

 

Choose from water, broth of any sort, beer of any sort (gluten-free, if that is a concern), or unsweetened apple cider

3

 

lbs

 

frozen boneless center-cut pork loin

 

(1 package)
INSTRUCTIONS
Stir the barbecue sauce and liquid in an Instant Pot. Set the pork loin fat-side down in the pot and turn it to coat it in the sauce, leaving it fat-side up. Lock the lid onto the cooker.

Option 1 Max Pressure Cooker
Press Pressure cook on Max pressure for 45 minutes with the Keep Warm setting off.

Optional 2 All Pressure Cookers
Press Meat/Stew, Pressure Cook or Manual on High pressure for 50 minutes with the Keep Warm setting off. The valve must be closed.

When the machine has finished cooking, turn it off and let its pressure return to normal naturally, about 45 minutes. Unlatch the lid and open the cooker. Insert an instant-read meat thermometer into the center of the pork loin and check that the meat registers 145°F. If not, lock the lid back onto the cooker and cook for another 10 minutes at HIGH pressure, followed by a quick release. Transfer the pork loin to a nearby cutting board. Set aside for 10 minutes.

Press the button for. Set it for MEDIUM, NORMAL, or CUSTOM 300°F and set the time for 20 minutes.

Bring the sauce in the cooker to a simmer, stirring occasionally. Cook, stirring once in a while, until reduced to the consistency of a thick barbecue sauce, about 12 minutes. Turn off the SAUTÉ function. Slice the pork loin into 1/2-inch-thick rounds and serve with the sauce ladled on top
RECIPE NOTES
Beyond
• Since this dish isn't pulled, it's best over a bed of vegetables or grains. Try steamed or sautéed spinach or kale. Or serve it over a cooked whole grain like wheat berries mixed with herbs and/or diced carrots. Or go all out with a wild rice pilaf.
• This is probably the best pork dish in this book for sandwiches. Slice the pork loin into 1/4-inch-thick rounds, then store in the reduced sauce in a sealed container in
the fridge for up to 3 days. Lift them out of the sauce and serve them on kaiser rolls with purchased coleslaw or thinly sliced red onions and lots of pickle relish.