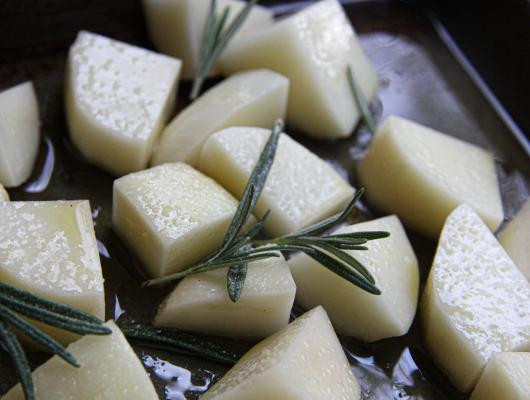 Roasted Rosemary Potatoes is one of my favorite dishes. Actually is one that my friends ask me to make as they love it too.
Ingredients
4 medium, peeled and cut into 1″ cube potatoes
4 tablespoons olive oil
Rosemary sprig
Preparation
1. Preheat oven at 375F degrees. Spread 1 tablespoon of the olive oil on a cookie sheet. In a bowl add the potatoes, rosemary, and the remaining olive oil. Mix well to coat all the potatoes cubes.
2. Place the potatoes on the cookie sheet and sprinkle generously with the salt. Bake in the oven and cook for 30 minutes or until the potatoes have formed a nice crust on the bottom and are golden on top.