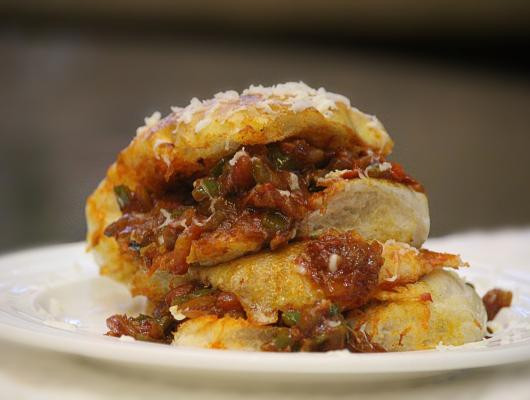 Schezwan masala pav is inspired by Indian street dish vada Pav and Pav Bhaji it is mostly famous in Mumbai (India), so here is new dish "Schezwan masala pav" it is said that it is a combination of three different dish in one plate. The herbs and spices are used in it is totally Indian with Chinese taste
Ingredients
3 tbsp Ching's Schezwan Chutney
2 Chopped Onion
1 tsp Chopped Garlic
2 Chopped Tomatoes
2 Chopped Capsicum
1 tsp Simith & Jones Ginger Garlic Paste
1 ½ tbsp Pav Bhaji Masala
1 tbsp Butter
8 Pieces Pav
1 tbsp Oil
2 tbsp Chopped Coriander
Preparation
1. Heat oil in a pan, add garlic, onion and sauté well. Add Smith n Jones ginger garlic paste and mix.
2. Add capsicum and sauté until capsicum is cooked.
3. Add tomatoes, salt and cook until tomatoes are soft.
4. Add Chings Secret Schezwan Chutney, pav bhaji masala and sauté. Now mash the masala and cook for some more time.
5. Add chopped coriander and remove the mixture in a bowl.
6. Slit the pav and add butter onto it and place the pav in the pan and toast the pav .
7. Stuff the pav with the prepared mixture and cook the pav in the pan until crisp.
8. Remove in the serving plate and Serve