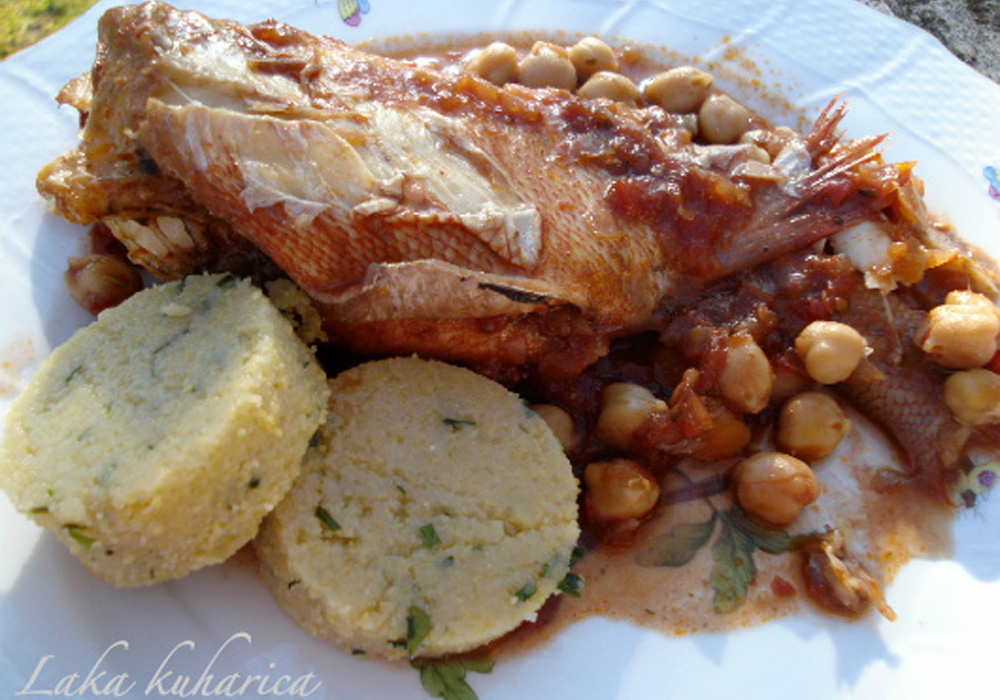 White fish with succulent sauce and flavorful polenta.
Ingredients
4 small scorpionfish, well cleaned, without heads
1 tbs olive oil
1 onion, chopped
2 cloves garlic, chopped
240 g canned whole (peeled) tomatoes
1 tbs Vegeta or similar seasoning
1 tsp dry oregano
1/3 cup red wine
240 g canned chickpeas, drained and washed
Polenta with wine and chives:
1 ½ cups water
Pinch of salt
1 cup instant polenta
½ cup white wine
Chives, chopped
Preparation
1. Sauté briefly onions and garlic in oil, over medium heat.
2. Add tomatoes, Vegeta and oregano, stir and with a wooden spoon roughly chop the tomatoes. Gently simmer for 2-3 minutes.
3. Gradually add wine, stir, briefly simmer over medium heat for flavors to blend.
4. Spread few tablespoons of sauce on the bottom of an ovenproof casserole, place the scorpionfish on the sauce, cover with the rest of the sauce.
5. Top with chickpeas, cover.
6. Cook the fish for 20 minutes in the oven at 200ËšC, then remove the lid and bake another 10 – 15 minutes.
7. In the meantime, prepare the polenta with wine and chives: gradually and stirring constantly, add instant polenta in to the salted, boiling water. Stir in the wine to make polenta less thick. Add chives, stir. Pour the polenta into a square pan, allow to cool slightly and harden, cut it with the round cookie cutter. Serve with the fish and sauce.