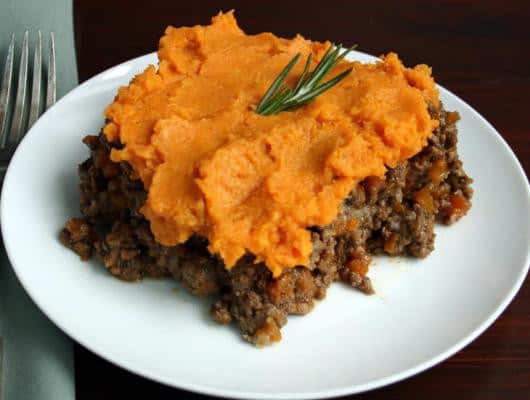 DESCRIPTION: This shepherd's pie uses mashed sweet potatoes to replace the traditional white potato topping.
Ingredients
2 Tablespoons (30 ml) avocado oil
24 oz ground lamb (710 g)
1 onion, peeled and finely chopped
2 cloves garlic, peeled and finely chopped
2 large carrot, peeled and finely chopped
2 celery stalk, finely chopped
1 large sprig rosemary, leaves picked and finely chopped
2 cups (480 ml) beef or lamb stock
2 medium sweet potatoes (4 small sweet potatoes)
Salt
Preparation
1. Preheat oven to 400 F (200 C).
2. Place sweet potatoes into the oven and roast until soft (approx. 40 minutes).
3. Meanwhile, add avocado oil to a large pot and cook the ground lamb until browned.
4. Then add in the onion, garlic, carrot, celery, and rosemary.
5. Cook for 15 minutes and then add in the beef stock. Season with salt to taste.
6. Simmer for 40 minutes until the liquid gets cooked down.
7. Peel and then mash the sweet potatoes.
8. Pour the lamb mixture into a dish and top with the mashed sweet potatoes.