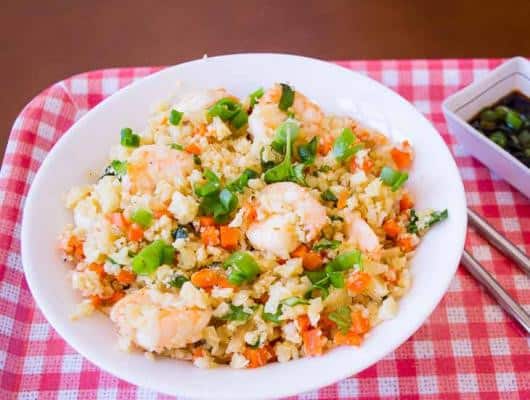 DESCRIPTION: This aip shrimp fried rice dish is so fresh and flavorful you'll never miss takeout again!
Ingredients
0.5 lb of shrimp (225 g), peeled
1 medium onion (110 g), diced
2 cloves of garlic (6 g), diced
1 head of cauliflower (600 g), broken into florets
2 carrots (100 g), diced
2 green onions (10 g), diced
4 Tablespoons of avocado oil (60 ml), to cook in
2 Tablespoons of coconut aminos (30 ml)
Salt, to taste
Preparation
1. Add avocado oil to a frying pan and cook the peeled shrimp along with the diced onion and garlic until the shrimp is cooked and the onions are slightly browned. Remove from the pan and set aside.
2. Food process the cauliflower florets in a food processor until it forms rice-like small pieces.
3. Make sure to dry the cauliflower before food processing and squeeze out excess water after.
4. Add the cauliflower rice and carrots to the pan and cook until softened.
5. Add back the shrimp, onion, garlic and then top with green onions. Season with coconut aminos and salt to taste.