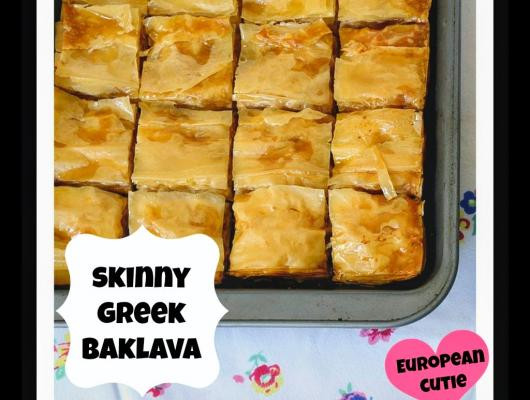 Here is my healthier version of the traditional Greek Baklava, its got less sugar and less fat but is still delicious! I remember as a child my mother used to make this perfectly for my greek stepfather..came out perfect everytime.. heres a skinnier version.. enjoy! ♥
Ingredients
1/2 17.3 ounce package (1 sheet) frozen puff pastry
• 3/4 cup sliced or slivered almonds
• 5 tablespoons honey
• 1/4 teaspoon vanilla
•1/4 teaspoon ground cinnamon
Preparation
1. Thaw puff pastry according to package directions. Preheat oven to 400 degrees F. Using a pizza cutter, cut pastry into six pieces (each about 5 inches long and 3 inches wide). Place pastry pieces on a baking sheet. Bake for 10 to 12 minutes or until golden. Using a wide metal spatula, transfer pastry pieces to a wire rack.
2. Meanwhile, place almonds in a large skillet; cook over medium heat about 8 minutes or until lightly browned, stirring frequently. Set aside 2 tablespoons of the almonds.
3. In a small food processor, combine the remaining almonds, 3 tablespoons of the honey, the vanilla, and cinnamon; cover and process until ground into a thick mixture.
4. Gently split each slightly warm pastry piece horizontally into two layers. Carefully spoon almond mixture in small dollops on bottoms of pastry layers. Replace top layers of pastry. Using a pizza cutter, cut each pastry in half crosswise and then cut diagonally half, to make four triangles per pastry.
5. Spoon the remaining 2 tablespoons honey into a glass measuring cup. Microwave on 100 percent power (high) about 10 seconds or until thinned and a pourable consistency. Drizzle the warm honey over the pastry triangles. Sprinkle with the reserved 2 tablespoons toasted almonds. enjoy! ♥