Smoked Prime Rib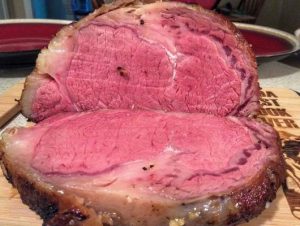 Ingredients
4 lb. boneless rib roast
2 tbsp kosher salt
1 tbsp paprika
1 tbsp garlic powder
1 tbsp Pilleteri's Sweet Rub(or your favorite rub)
2 tsp black pepper
butter
minced garlic
Preparation
1 Preparing meat this size in a roast always needs to be prepped before so that flavors can penetrate the meat. I took the rib roast and coated with salt first. I then mixed the paprika, garlic powder, rub and black pepper and liberally coated the meat. I then placed back in fridge and let dry brine overnight. A dry brine is a process that allows all salt and spices penetrate the meat more than just on the surface. It is not a marinade which uses wet ingredients and is chalked full of sodium. The color of the meat the next day will even be different in a dry brine.
2 The next day I took the meat out of the fridge and let it rest on the counter for about 30 minutes. I then inserted the Meater meat probe and set it for 128 degrees doneness. This setting is rare/medium rare.
3 I placed the rib roast on a preheated 250 degree smoker(with hickory chips added) and cooked on the smoker for 2 hours and 20 minutes or until the internal temp reached about 118 degrees. I removed from the heat and placed it covered on the counter for about 25 minutes to get to target temp. Resting is a very important part of cooking; beef especially. A proper rest pulls the temp to the correct temp and also keeps the juices in the meat. If you had pulled the meat off at 128 degrees, it would rise another 10 degrees while resting and you would have an overcooked piece of meat. This is where I recommend a meat thermometer or the Meater probe for your roasts to get that proper time to remove your roast off the smoker or grill.
4 I fired up a charcoal grill to put a sear on the meat. I melted about 2 tablespoons of butter, added minced garlic and 2 tsp of sugar. I coated the roast with the butter mixture and added to hot coals. I turned about every minute or so, adding more butter mixture until I got the color I wanted.
5 In all, the cooking time for a 4 pound roast was 2 hours and 38 minutes, including resting time.
6 The verdict: It was a tender, juicy cut of meat with a nice smokey crust on the outside. It was amazing! If you have a special event or celebration, try this sometime!