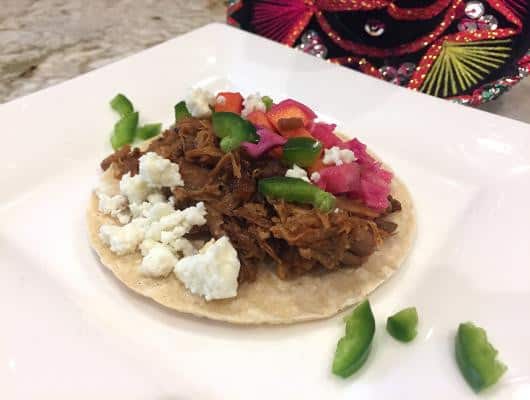 These Smoky, sweet and spicy pulled pork street tacos with a jicama mango slaw will make your mouth happy. Substitute chicken or store bought pulled pork to make them even faster.
Ingredients
2 1/2 Cups Jicama Mango Slaw (https://mincoffcafe.com/jicama-mango-slaw/)
4 Cups Smoked Pulled Pork (https://mincoffcafe.com/juicy-smoked-pulled-pork/)
24 Soft Corn Tortillas (street taco size – small)
3 Jalapeños (sliced) (optional)
Queso Fresco Cheese (optional)
BBQ Sauce of Choice (optional)
Lime wedges (optional)
Radishes (optional)
Cilantro (optional)
Preparation
1 Grill or toast small street taco size soft corn tortillas until slightly warm (too much will make them crunchy).
2 Layer your preferred ingredients from above.
3 Pour a margarita or your favorite beverage and enjoy!