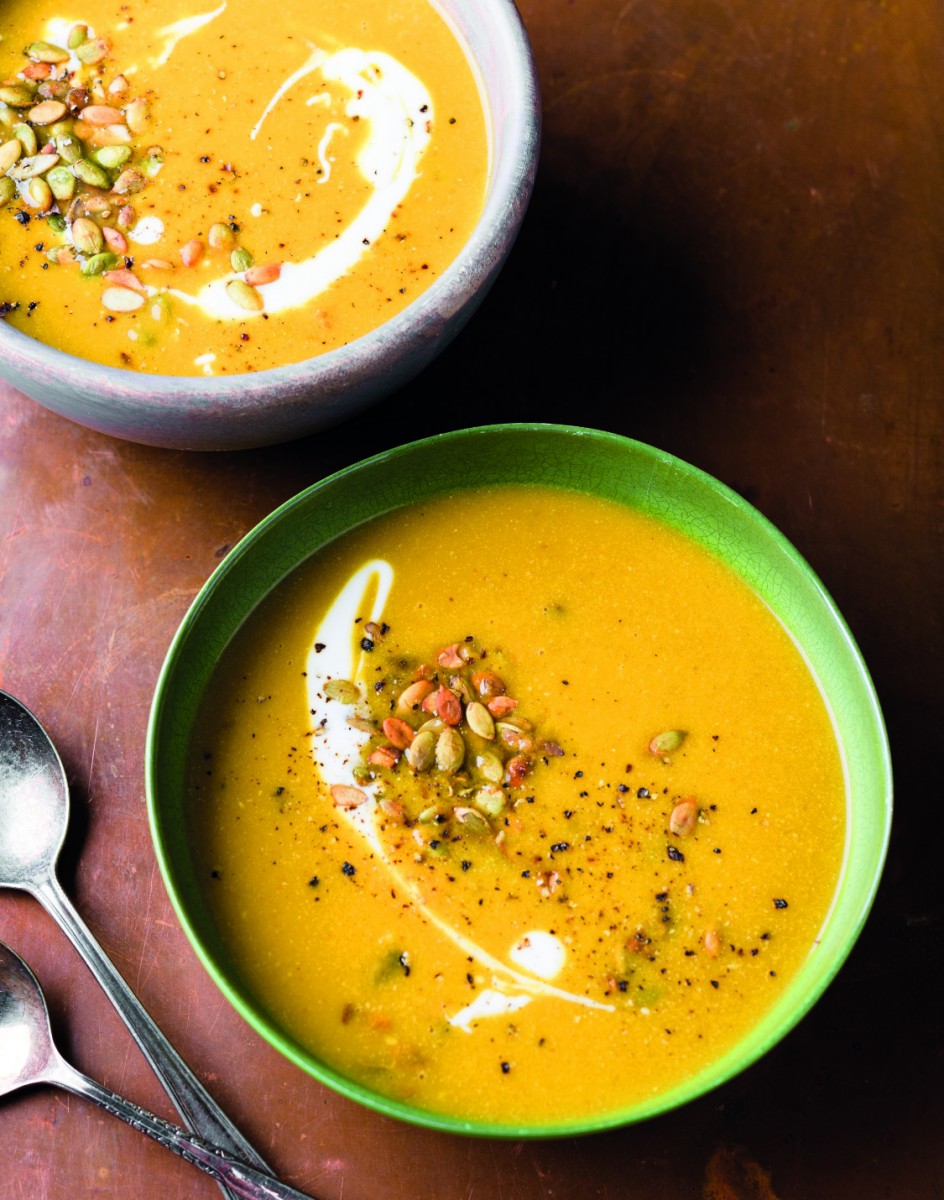 This aromatic, colorful soup, inspired by a recipe in "Bollywood Kitchen" by Sri Rao, gets its rich flavor from two spice blends (garam masala and curry powder), plus coconut oil and whole-milk yogurt. If you like, substitute vegetable broth for the chicken broth to make the dish vegetarian. toasted pumpkin seeds sprinkled on just before serving add color contrast, nutty flavor and crunchy texture. You can use store-bought roasted pumpkin seeds (plain or spiced) or you can toast raw ones in the Instant Pot before you begin cooking the soup. simply cook them on More/High Sauté, stirring occasionally, until lightly browned and fragrant, about 4 minutes, then transfer to a small bowl; the seeds will crisp as they cool. Don't add the yogurt directly to the hot puree, as the heat will cause the yogurt to separate. Gently warming the yogurt by whisking it with about 1 cup of the puree, then adding the mixture to the pot will prevent it from curdling.
INGREDIENTS

2

 

tbsp

 

coconut oil

 

preferably unrefined

1

 

large yellow onion

 

halved and thinly sliced

kosher salt

ground black pepper

2

 

tbsp

 

finely grated fresh ginger

1

 

tbsp

 

curry powder

2

 

tsp

 

garam masala

2

 

lbs

 

butternut squash

 

peeled, seeded and cut into 1 inch chunks (4 cups)

1

 

quart

 

low-sodium chicken broth

1/2

 

cup

 

plain whole milk yogurt

 

plus more to serve

1/2

 

cup

 

toasted pumpkin seeds
START: On a 6 quart Instant Pot, select More/High Sauté. add the coconut oil and heat until shimmering. add the onion and 1 teaspoon salt, then cook, stirring occasionally, until the onion begins to brown, about 7 minutes. stir in the ginger and cook until fragrant, about 30 seconds. stir in the curry powder and garam masala, add the squash and broth. stir to combine, then distribute in an even layer.
FAST: Press Cancel, lock the lid in place and move the pressure valve to Sealing. Select Pressure Cook or Manual; make sure the pressure level is set to High. Set the cooking time for 10 minutes. When pressure cooking is complete, allow the pressure to reduce naturally for 10 minutes, then release the remaining steam by moving the pressure valve to Venting. Press Cancel, then carefully open the pot.

– -OR – –

SLOW: With the pot still on More/High Sauté, bring the mixture to a boil. Press Cancel, lock the lid in place and move the pressure valve to Venting. Select Slow Cook and set the temperature to More/High. Set the cooking time for 4 to 4.5 hours; the squash is done when a skewer inserted into the largest piece meets no resistance. Press Cancel, then carefully open the pot.

FINISH: In a blender and working in 2 batches, puree the mixture until smooth, about 30 seconds, transferring the first batch to a bowl; return both batches to the pot. (alternatively, use an immersion blender to puree the mixture directly in the pot). select More/High Sauté and bring to a simmer, stirring occasionally, then press Cancel to turn off the pot. Remove the insert from the pot. In a small bowl, whisk together the yogurt and about 1 cup of the puree, then stir into the soup. taste and season with salt and pepper. serve topped with a dollop of yogurt and sprinkled with the pumpkin seeds and additional pepper.

Photo Credit:- Cosori Air Fryers