Buffalo Chili
This is a traditional Native American recipe is adapted from the 
Mitsitam Cafe
 at the Smithsonian National Museum of the American Indian. This rich, flavorful chili is low in fat and serves a crowd. For a less spicy (and more kid-friendly) version, omit chipotle chiles and reduce chili powder to 1-2 tablespoons. Pairs well with 
sweet potato biscuits
, corn bread, or traditional fry bread.
Prep: 15 min
Cook: 1 hour 30 min
Total: 1 hour 45 min
Serves 10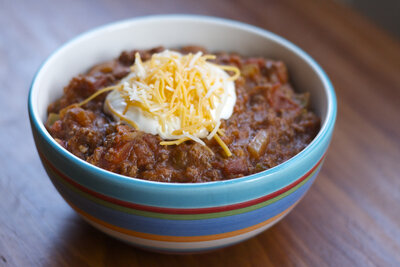 1 yellow onion, chopped
1 green bell pepper, chopped
2 chipotle chiles en adobe, minced
3 cloves garlic, minced
¼ cup chili powder
2 tablespoons ground coriander
1 tablespoon ground cumin
In a medium bowl, combine onion, bell pepper, chiles, garlic, and spices. Stir to combine and set aside.
2 tablespoons canola oil
1 pound ground buffalo
In a Dutch oven or large stock pot, heat oil over medium heat until simmering. Sauté ground buffalo, breaking it up with a spoon, until browned.
reserved onion-pepper mixture
Add reserved onion-pepper mixture and sauté over medium heat until onion is translucent, about 3 to 5 minutes.
28 ounces diced tomatoes
15 ounces pinto beans, cooked or canned and rinsed
1 cup tomato puree
1 cup beef stock
1 cup water
Add diced tomatoes, pinto beans, tomato puree, beef stock, and water. Increase heat to high and bring to a boil.
Reduce heat to a simmer and cook, uncovered, for 30 minutes.
2 tablespoons tomato paste
Add tomato paste and stir to combine. Simmer for 30 additional minutes.
½ cup masa harina flour
salt and pepper, to taste
While stirring, slowly add masa harina to thicken chili. If chili becomes too thick, add additional water or beef stock in 2 tablespoon increments. Season with salt and pepper to taste.
Simmer for 5 additional minutes and serve with sour cream and shredded cheese.