CWEB.com – Johnson & Johnson Beats Earnings Estimates
By Leslie Cohen
Managing Editor
Johnson & Johnson (NYSE: JNJ) Johnson & Johnson's first-quarter earnings beat and exceeded expectations on 4-17-2018. With a lot of momentum carrying from 2017 to 2018, the results were positive.
Earnings came out at: $2.06 per share vs. $2.02 per share expected. Respectively, revenue topped to $20 billion vs. $19.46 billion that was expected.
The new US tax legislation law gives J&J more flexibility to invest on a global basis and within the US. Strong investments of 30 billion dollars over a four year period will occur in new technologies that will be manufactured in the US.
Johnson & Johnson's role as a biotech buyer gives them a fifty percent growth rate for the company. J&J's consumer business has lagged with the other occupants in this sector. Baby care product sales fell down to $457 million from $455 million, a 3% percent decrease year-over-year when excluding currency. J&J will relaunch its baby care later this year. The millennial age group is interested more in organic products. With competition heating up from other organic companies like "The Honest Company", J&J will introduce a line of baby care items with organic ingredients.
Sales for Xarelto, the blood thinner medication rose approximately 13 percent on an operational basis reaching only $578 million in global sales, missing analysts' estimates of $633.7 million. Sales worldwide fell down to 18 percent, excluding a positive currency impact, to $1.34 billion, therefore missing analysts' expectations for sales of $1.5 billion.
Remicade drug for arthritis has been under pressure with generic versions on the market. On the bright side the Food and Drug Administration approved Erleada, a drug that treats non-metastatic castration-resistant prostate cancer.
Chief Financial Officer Dominic Caruso CFO is announcing his retirement from his 12 year tenure at Johnson & Johnson.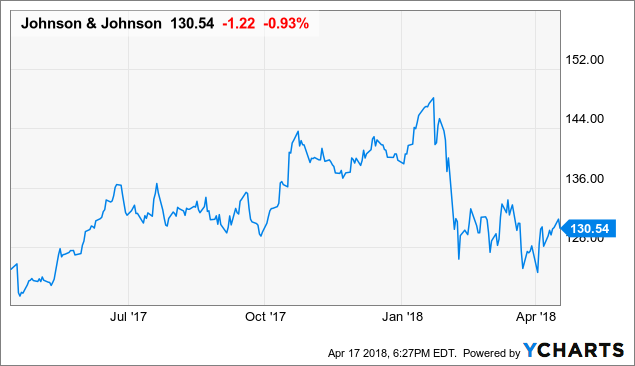 JNJ data by YCharts