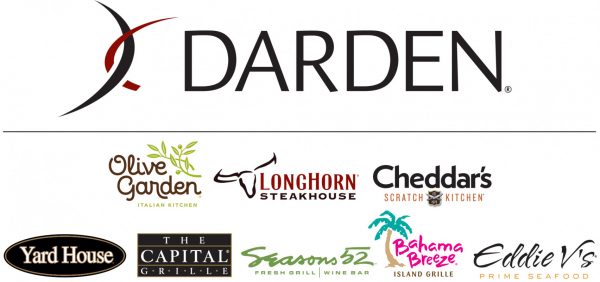 On Friday, full service restaurant company Darden Restaurants' stock experienced a dip when the company rolled out its second quarter fiscal results. The company reported its same-store sales with a 20.6% dip, which has proven analyst predictions of higher results wrong.
The restaurant company's parent, the Olive Garden also sent Wall Street quarterly revenue expectations rolling, however, it has maintained its earnings approximation.
The restaurant company cites the second wave of COVID-19 pandemic and its related restrictions on dining services for the plunge in its same-store sales for the quarter.
However, parent Olive Garden has revealed its expectations of a further plunge of 5% compared to its earlier outlook of 30%. This means that Olive Garden expects its sales to slide to hover between 30% and 35% in the next quarter, which is for all hoteliers the best season of the year.
CFO of the company, Rick Cardenas stated that the chain did not foresee favorable increase in sales till the next year's fourth fiscal quarter, i.e. end of May 2021.
Olive Garden's same-store sales decreased 19.9% in the second quarter and 26% from a year ago in the third.  The restaurant chain has kept its eyes on marketing its strategy of take-away sales and signature platter rather than time-bound promotion roll-outs, which affect profits.
Darden's outlook for third quarter is per share net earnings of 75 cents as against Wall Street's forecast of $1.34.
According to Gene Lee, the company's CEO, Darden's secret to enhanced same-store sales lies in more leniencies in the states' dining constraints. 25% of Darden's eateries had to close down their public dining services due to the pandemic.
Source CNBC
[lyte id='2GrBwSsVAfE' /]
[lyte id='Jtt6XZWPuzI' /]